The Ideal Startup for Private Capital Raising Firms
Private capital raising firms and crowdfunding platforms are competing to get the best deals on the market, because successful startups boost the platform's image, bring money and build long term confidence of the platform's target audience.
But what does a promising startup look like and where to find a profitable one to invest in? Let's have a look at the major requirements for startup crowdfunding and how other platforms see their ideal customer. 
What you will learn in this post:
The signs of a promising startup
A promising startup is the one that already makes money, has a proven customer base, market awareness or has got an award or a grant. This gives an investment firm something to work with and verify if there's any potential for the startup to make profits.
Crowdfunding firms and private capital raising platforms are looking for startups that:
Are at the idea stage and have proven market traction, or
Have already received a grant but still need money, or
Already have some income from their product sales, but it is not enough to grow their business further
Where private investment firms find customers
The best place to shop around for such startups are accelerators, incubators, events, personal networks and sites like Crunchbase, if we are talking about outbound marketing.
But if you focus on the inbound one, you can also optimize your website for google search and focus on SEO, social media marketing, video content and more to attract such startups that are looking for a financial or awareness boost.
In a crowdfunding industry report of 2021, on behalf of CrowdSpace, we've found interesting statistics regarding the marketing activities of crowdfunding platforms.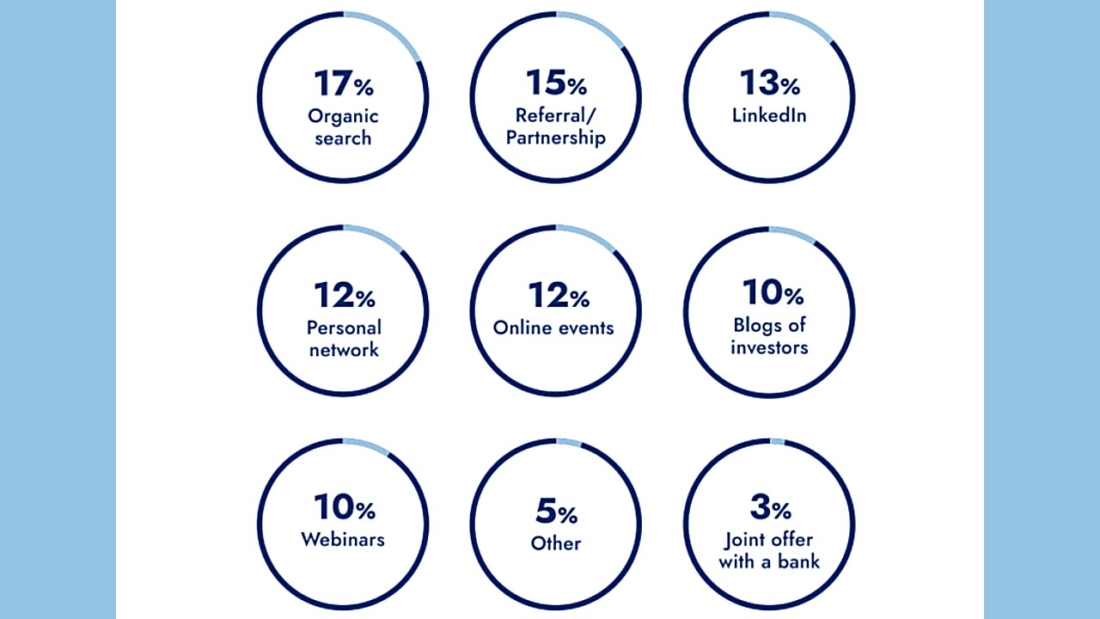 Organic search or SEO is one of the leading ways for crowdfunding platforms and investment firms to attract different customer profiles including both investors and fundraisers.
While there's no data on how much startups raise depending on the marketing channel they were attracted through, the industry standard remains in between one to five million USD.
Private crowdfunding limits or how much startups raise
Depending on the country, the capital raising limits can vary, but the golden rule now is around 5 million dollars, pounds or euros.
According to The U.S. Securities and Exchange Commission, companies may raise 5 million dollars under the Regulation Crowdfunding in a 12 months' period. Only in 2020, the limit was 1 million, but thanks to the updated regulations, it seems like 5 million USD is now a more interesting option for both startups and platforms.
As for the European official regulations, the maximum amount of money allowed to gain through crowdfunding campaigns in Europe is 5 million euros.
The 5 million mark is definitely better than the 1 million one which used to be the standard. One of the reasons why the higher raising limit is better is because it allows platforms to make more money on commission as well as make the whole business model more viable.
After raising the required capital, the game is not over, at least for the investors. Because if we are talking about debt or equity crowdfunding, there have to be some returns that investors are looking to gain within 1 to 5 years on average.
How fast the startup will be able to achieve commercial success
We've all heard the statistics about how long startups live. The majority of startups will fail and according to Investopedia:
21% fail in the 1st year
30% can't keep up in the 2nd year
50% die in the 5th year
70% in the 10th year
In the ideal scenario, the startup is safe and sound, but the reality speaks for itself. Looking at these numbers, firms may calculate how long it takes for startups to make any dividend repayments or other payouts to investors.
The more successful cases of repayments the platform has, the higher chances of the word of mouth marketing to bring more investors and startups to the platform and get the economy going.
How much money crowdfunding platforms earn for their services
The income of crowdfunding platforms is rather complex, and can include multiple commissions. For instance, StartEngine states in its agreement a list of commissions the company can take for their services:
$5,000 for campaign marketing and consulting services
a fee consisting of a 6% commission based on the dollar amount received from US investors
10% commission based on the dollar amount received from credit card or BTC payments
12% commission based on the dollar amount received from International credit card payments and International BTC payments, etc.

Other fees include due diligence checks, any amendments to the offering after it's live, back actor checks, escrow account fees and more.
Another well-known crowdfunding platform, CrowdCube, also holds commissions on their services, such as:
7% on the successful money raised
0,75 – 1,25% completion fee
1,4% for EU Visa and MasterCard credit cards
2,9% for non-EU and Amex credit cards
To build a crowdfunding platform like StartEngine or Crowdcube, you need crowdfunding software.
The software that helps private capital raising firms manage online investments more efficiently
Crowdfunding software like LenderKit can help you facilitate, organize and unify the work with your crowdfunding campaigns, clients, and their investments. The investment management software allows you to track your up-to-date opportunities, clients, and campaigns in one place.
LenderKit investment software comes with an out-of-box white-label solution or you can also get started with a fully-custom crowdfunding platform and manage full-cycle private capital raising. With LenderKIt, you will be able to automate everything from onboarding to a settlement of investments and further distribution of money.
Final thoughts
Crowdfunding platforms and private capital raising firms have to solve 2 marketing problems such as attracting investors and fundraisers. This is not an easy task and requires an online solution to help you do this more effectively, especially if you rely on organic search, advertising, social media marketing and overall search engine optimization to attract clients.
Whether your clients are raising under 1 million, 1-5 million, or 10+ million USD, you need to have a white-label crowdfunding platform software or custom online investment portal to manage campaigns and investors effectively.
If you'd like to automate your investment business or start a new crowdfunding platform, reach out to LenderKit for an online demo.