Build vs Buy Crowdfunding Software
Building a crowdfunding platform from scratch gives you more control over the project development process and final software capabilities, but it also adds up some management pressure. In contrast, buying a SaaS crowdfunding platform allows you to launch quickly, but also raises scalability and sustainability concerns in the future.
When building your own crowdfunding software, the stress level depends on your personal time commitment or qualifications of your project manager who will be responsible for the accuracy of the project development – design, coding, approvals, edits, etc.
Basically, working with an outsourced crowdfunding platform developer requires you to have a person on your end who will approve, reject, or clarify deliverables from the development team side.
Depending on the complexity of solutions, time to build a custom crowdfunding platform may start from around 6 months. The whole process can be broken up into stages. 
Discovery phase
During the discovery phase, a crowdfunding software development agency will help you clarify a lot of uncertainties including:
Payment processing
KYC/AML compliance
Software requirements to fit a particular regulatory framework
How many people are involved in the project and who is involved – team.
Crowdfunding software pricing (usually, milestone-based), etc.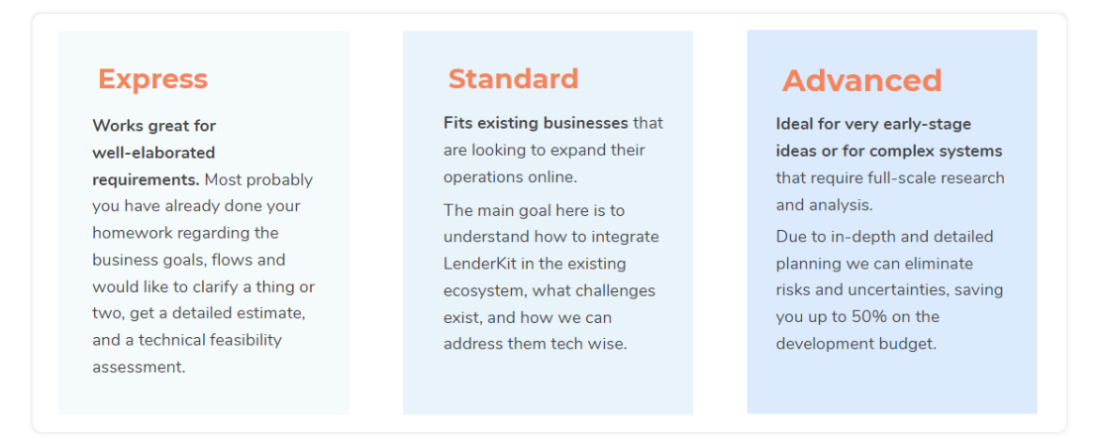 At the end of this phase, you will have detailed roadmaps and priorities of what is going to be built and when. The discovery covers a wide range of concepts, it should answer key questions – what, why, when, where and how.
The most important part of the discovery is to reduce costs by setting up priorities. At the start, it's difficult to see how long the project will take, which features are the "needs" and which are the "wants".
Platform design
Deciding on the look and feel of the crowdfunding solution. The design phase usually goes in parallel with development. With LenderKit, this phase can be greatly reduced due to an already existing Investor Portal and Marketing site which can be easily tweaked and adjusted to your requirements.
Building a minimum viable product (MVP)
This stage is about launching a functional crowdfunding platform which you can use in the regulatory sandbox of SEC, FCA, CMA, SAMA, or elsewhere.
Quality assurance and optimization
At this stage, the team will tune the MPV depending on the feedback of end-users or regulators and finalize the platform functionality.
Product roll-out, support & control
So, you've managed to build a custom-tailored product that incorporates technical capabilities necessary to run and sustain your business model. At this stage, you keep an eye on what you can do better to guarantee superior UX for both investors and fundraisers and set your company for growth.
Now let's talk about the cost vs value ration. The benefits of building your own platform include:
The wide choice of functionality for your business needs, custom-made functions to meet your specific requirements.
High scalability as you can add as many features as you want when you grow your company.
Budget-friendly in the long run since you pay-to-adjust and not pay-to-rebuild compared to a white-label option that may no longer be feasible.
Secure encryptions and protocols that will keep hackers at a bay so the chances of messing up with the investment projects are very low.
In-house maintenance where you nurture and care for your own project knowing the initial code inside-out.
Ability to create your own roles on the platform and integrate the required third-party infrastructure which can be more cost-effective than the one on a SaaS crowdfunding solution.
For some entrepreneurs, building a crowdfunding portal is not an option because of the high costs. Launching such a project can cost anything between 150,000 – 250,000+ USD.
More info on: "How much does it cost to start a crowdfunding business"
Buying a White-label Crowdfunding Platform
White-label crowdfunding solutions are a way to go for firms that want to use fundraising for their internal operations. For example, a real estate developer can use white-label crowdfunding software to automate deal sourcing and raise capital more effectively. However, the property developer has no plan sustaining it any further.
So, as long as there are projects to fund, a white-label option makes sense because it's easy to start using it and it's easy to jump off when the solution is no longer needed.
In this case, there have to be certain requirements for a white-label crowdfunding provider:
Compliance (licensing)
Payment processing and client money management
KYC/AML support
E-signature functionality for document signing
IRA/ISA investing support (optional)
Reporting
Custodian services integrations (optional)
Import, export of data (users, offerings, etc.)
Transaction history export, etc
A white-label crowdfunding software allows companies to enter the market quickly and focus their attention on deal management. Speaking about potential roadblocks, companies should keep an eye on:
Software subscription fees (some white-label platforms may cost up to $10,000 per month)
Third-party service fees – payment gateways, KYC/AML, and e-sign providers will also charge you fees. The problem is that you can't change them unless your white-label provider allows you to.
Vendor changes direction. This is very common in Fintech and especially in something as dynamic as crowdfunding. If the platform has few clients or low fees, their business may not be sustainable and will not pay off, so they may change the direction to a more lucrative niche.
These 3 issues are the most common show stoppers, so watch out for them carefully.
Can LenderKit become your crowdfunding software provider?
With LenderKit, you start off with an existing platform that has a solid foundation necessary to kick off including: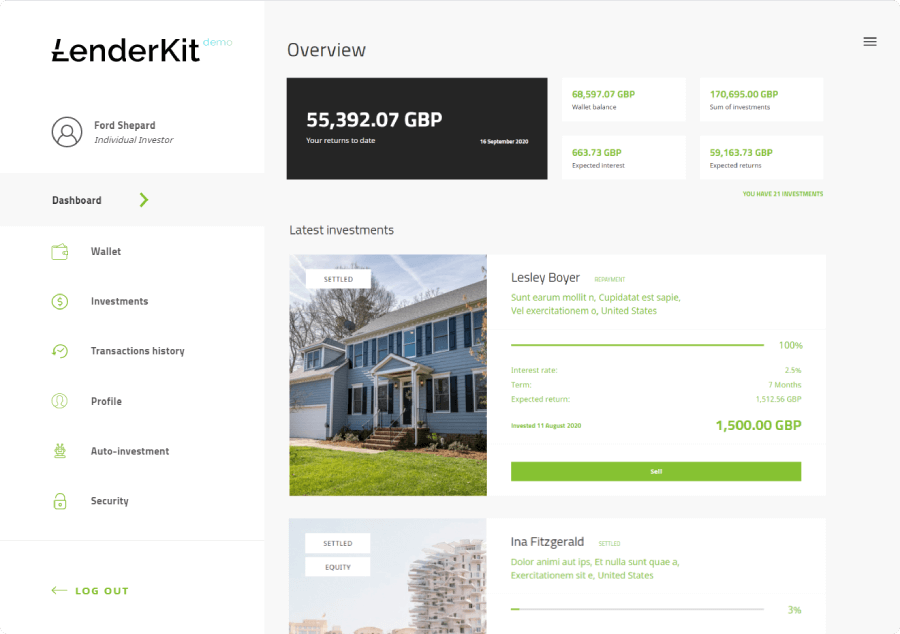 This setup greatly reduces the time to develop a crowdfunding portal. Moreover, LenderKit allows you to avoid vendor lock-up since we provide source code buyout options. As a result, you will have your own crowdfunding platform and full control over it with the freedom to change anything at any time once your business requires it.
If you'd like to discover more about what LenderKit can do to help your startup, reach out to us here.