CrowdEngine Alternatives
CrowdEngine is a US-based investor portal software provider. The company focuses on the Reg A, Reg D and Reg CF investments types and offers crowdfunding solutions for investment management firms.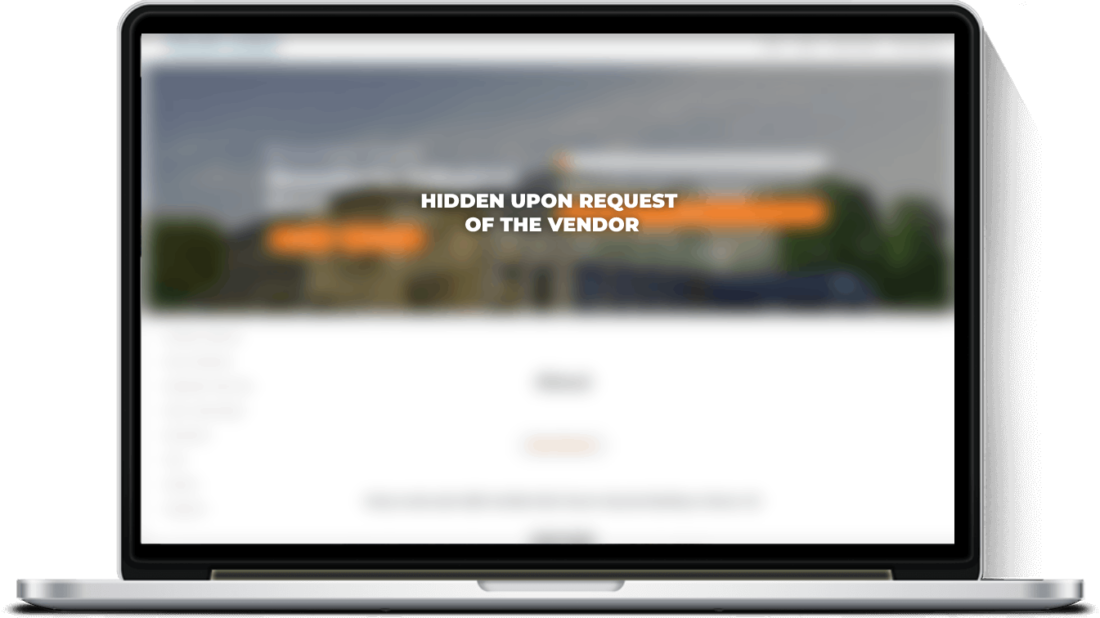 CrowdEngine entered the market in 2014 and has helped companies raise over $150,000,000 according to their About page.
By optimizing access to capital, cost of capital, compliance, automation/scalability, ongoing investor management, CrowdEngine solutions help clients offer better services and experiences to their investors and stakeholders.
What you will learn in this post:
Features
Investor portal. Backers register, browse deals or continue with a more complete registration process. Investors have access to a private "Deal Room" to review sensitive documents. Once they complete the registration, investors gain access to investment reports.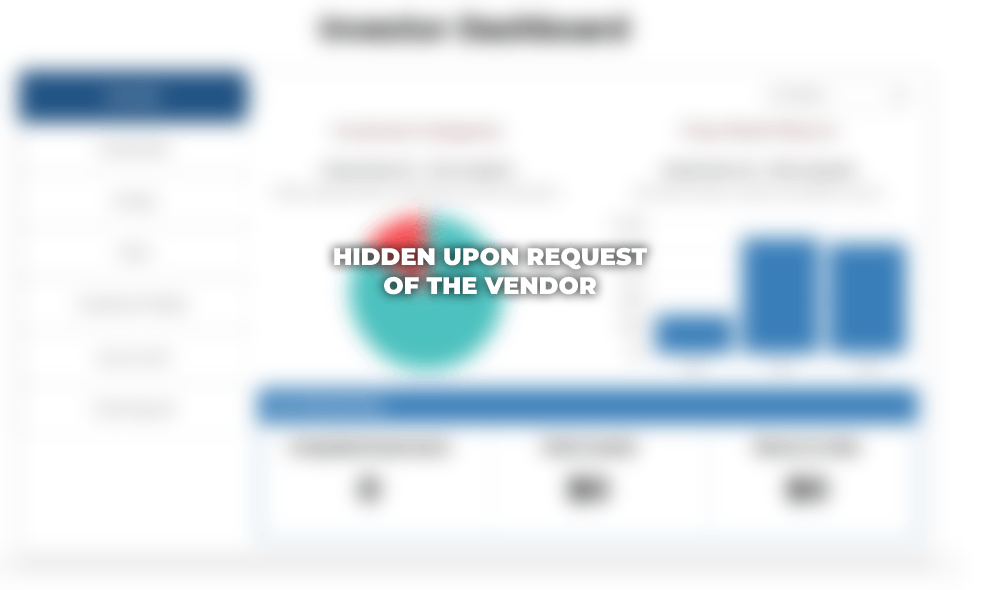 Issuer dashboard
Fundraisers get the toolkit for creating and managing offerings. Also, issuers can approve/deny investors, export investment data, manage/edit offering FAQ, etc.
Admin area
In the admin area, CrowdEngine provides everything for running a portal. You can manage projects (offerings), investments, users (investors), profiles, KYC/AML/bad actors, portal listing requests. As a bonus – content management feature set (branding, FAQs, lists, emails, etc).
Compliance engine
Clients are proposed to select their investment type as CrowdEngine covers Reg. D 506(c), Reg A, Reg D 506 (b), Reg CF crowdfunding (Title III crowdfunding), international and US intrastate offerings.
Also read how to license a crowdfunding platform
Integration options
You can choose between a standard option (adding CrowdEngine to your site) or frontend source code access.
The first enables you to add some buttons and links to "Investor Login" or "Offerings" on your existing website. Plus, the CrowdEngine team will customize your securities portal header/footer/CSS.
Frontend source code access is an advanced option. Using the API, you can build a custom feature-rich portal.
Recently, CrowdEngine in alliance with Polymath has announced a 'boxed set' of services for token issuers. A new service includes the below features:
branded STO (security token offering) website;
KYC & AML services;
investor whitelisting;
payment gateway.
This undertaking is to serve the rapidly growing security token and help Polymath issuers ensure compliant offerings.
To process transactions and allow clients manage assets, CrowdEngine partners with PrimeTrust.
CrowdEngine alternatives and crowdfunding solutions on the market
Transfers from one crowdfunding software provider to another happen in the industry. The reasons for switching a provider can be different:
Lack of functionality and customization
Complicated pricing
Expansion to other markets that is not covered by the existing provider's licensing options
Non-transparent, overly transparent or lacking control over the financial data
Other issues
It might not be the case with CrowdEngine, however, if you're simply researching other solutions that may cover your crowdfunding software needs in the US market, here is a list of providers you may consider in addition to CrowdEngine.
CrowdFund Connect
CrowdFundConnect is a white-label crowdfunding platform provider, funding portals and custom branded crowdfunding sites from the US.
The feature set consists of the below tech modules.
Security & compliance. Partnering with other companies, CrowdFund Connect provides full audit control, reporting and compliance capabilities for its clients. Your platform has embedded investor verification, SEC form filing, background checks, document management, identity verification, etc.
Investments. Deal widgets, customization options, personal dashboard, and private deal rooms are at your service. They help you streamline workflows and audits, manage content, create and publish documents, track analytics.
Networking. CrowdFund Connect lets you observe the activity of your issuers and investors and connect with them through popular networks like LinkedIn, Twitter and Facebook. A good idea is to create multiple levels of membership for your clients.
Through the Management module, CrowdFund Connect provides software support, ticket system and network uptime guarantee.
LenderKit
LenderKit provides crowdfunding software in the UK, USA, Saudi Arabia and UAE. One of the unique features of LenderKit is extensive customizability and source code access for enterprises and white-label software for early-stage businesses.
The software architecture allows you to connect to service providers like custodians, banks, e-signature, KYC/AML and payment processors. This allows a crowdfunding platform to cover a full fundraising cycle and provide professional services for the investors and fundraisers under the Reg CF, Reg A Tier 1 and Tier 2, Reg D 506(c), Reg D 506(b) and Rule 504.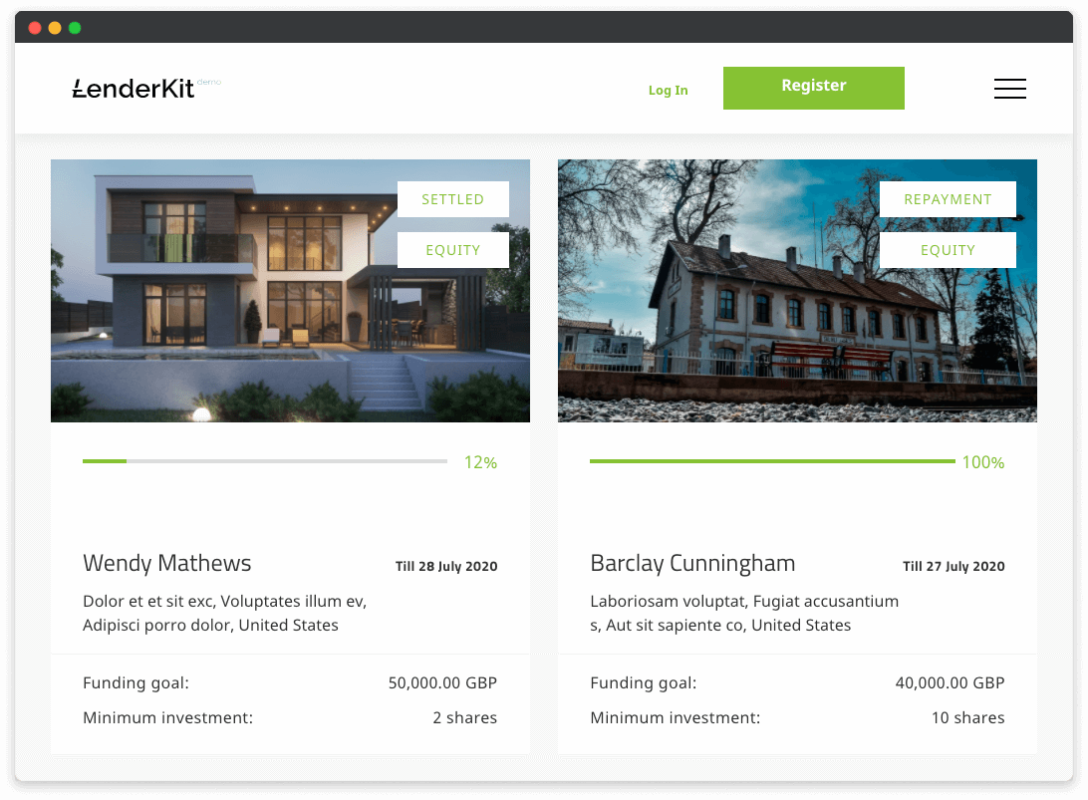 LenderKit comes with plenty of features out-of-box, but each of these can be customised to a particular regulation, industry, or business type.
Offering management – allows the admin of the platform to create new offerings manually or delegate this to the fundraising company.
Investor management – helps the admin manage user profiles.
Debt, equity, donation and rewards – LenderKit covers all types of crowdfunding.
Secondary market – allows investors trade securities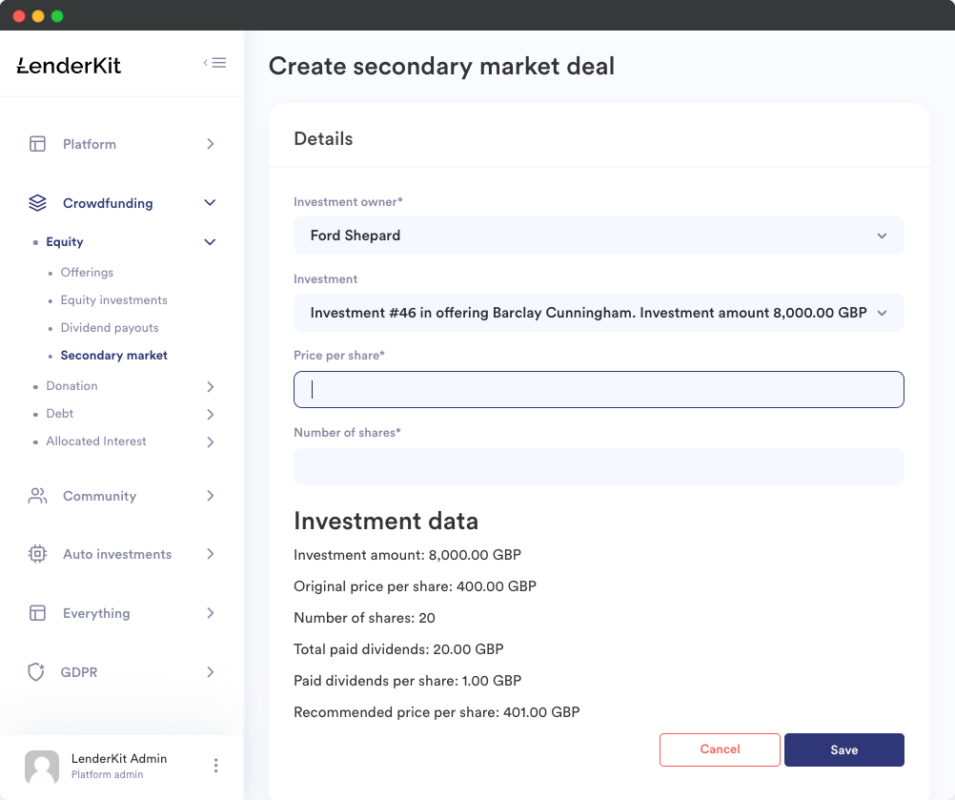 KYC/AML – automates user verification and credit scoring via a third-party service.
Permission settings – helps the admin to create new user roles and assign responsible staff members for different activities on the platform – legal, financial, marketing, etc.
GDPR settings – facilitates platform's compliance with the data protection rules.
Auto-investing – helps investors configure auto-investment scenarios.
Fees management and transaction management – set up custom fees on financial activities on the platform and keep track of each transaction for reporting purposes.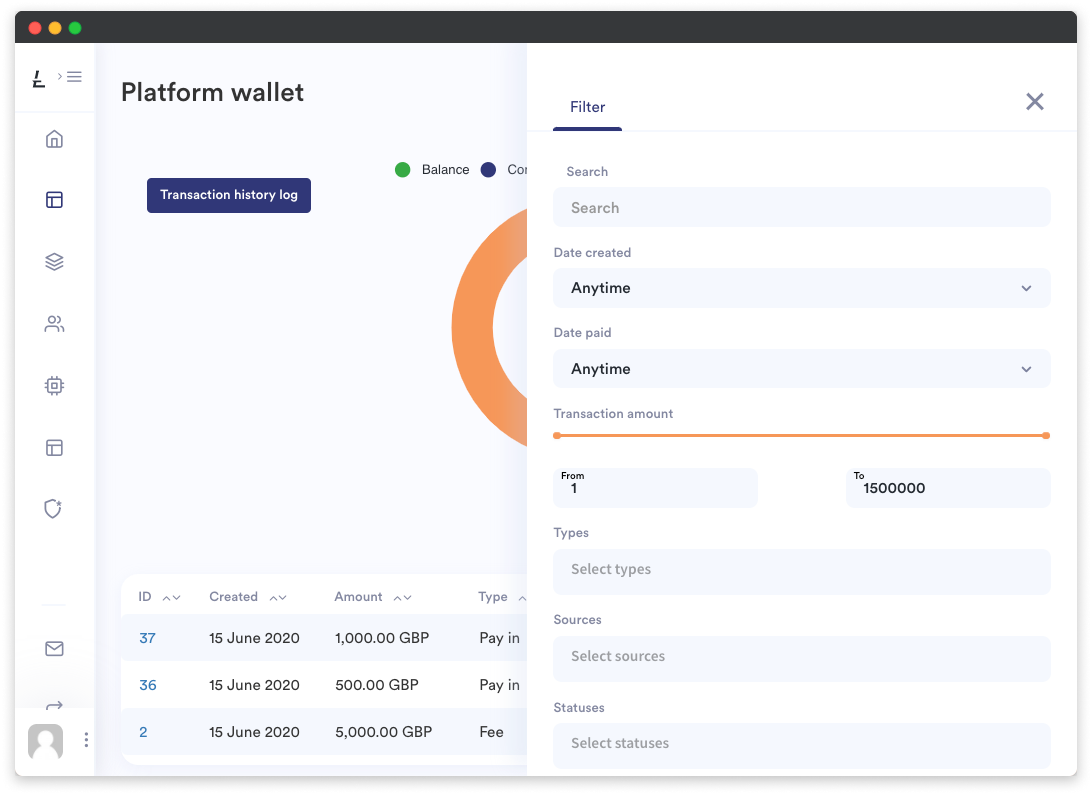 There's much more functionality that LenderKit offers, so the best thing is that you don't have to pay for it all, you can find out what functionality you need, and other features will be turned off.
Also, as was mentioned earlier, each module can be tailored to fit your design preferences and functionality requirements.
See LenderKit in action and request pricing
Groundbreaker
If you're looking for software to automate real estate fundraising or investment management Grounbreaker can be one of the options. GroundBreaker is one of the first white-label crowdfunding applications specifically designed for the Real Estate industry.
What's under the hood?
Features
investor portal with 24/7 access to investment updates and distribution tracking;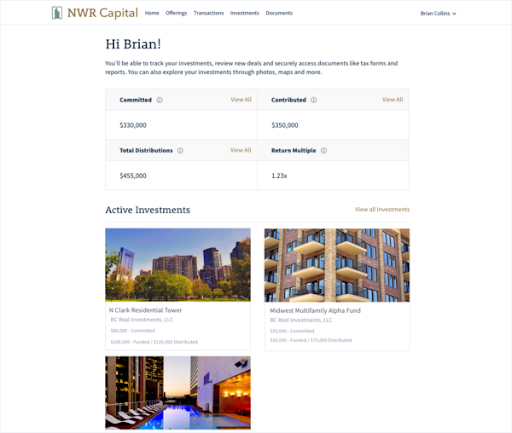 real estate private placements syndicates automation;
CRM for managing daily tasks and tackling the responsibilities of your team;
compliance and data security;
individual investor reporting on a bunch of points (contributions, distributions, return on equity, etc.);
deal rooms to share and manage deal documentation and automate due diligence procedures;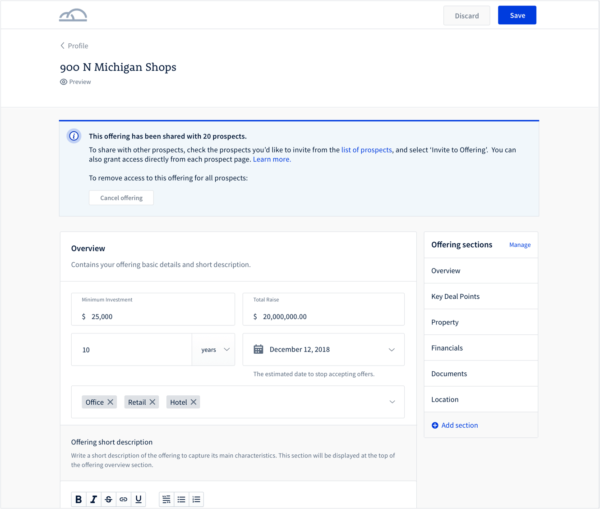 absolute fundraising automation for the subscription process, offline investing, email marketing, and document preparation.
CrowdPay US
Debt, equity, donations and rewards – CrowdPay US covers all these crowdfunding models. The software is geared towards a wide range of companies and projects:
single raise solutions;
crowdfunding portals;
donation-based campaigns;
reward-based crowdfunding;
real estate fundraising
It supports Reg A, Reg D 506 (c) and (b), international and US intrastate offerings.
Features
CrowdPay is truly feature-rich. Just look at its capabilities for crowdfunding portals:
Compliance & Regulation. The solution is SEC, FINRA, & Broker Dealer compliant and enables online escrow, payments and signing.
Digital docs & signatures. The tool has built-in e-signatures, Docusign and FundAmerica E-Sig Integration.
AML/KYC & Bad Actors checks. AML checks are conducted traditionally or automatically via 3rd party services. KYC consists of ID validation, suitability questionnaires, uploaded document requirements.
Specific issuer features (dashboard, track investor information, investment photo gallery, investment updates).
Specific investor features (watch lists, dashboard, profiles).
Back office helps in managing investor accreditation, payment and escrow processing, and project approval.
Supported payment options: ACH, wire & check options, traditional payments, multiple currencies.
Check other general features on the CrowdPay website.
Summary
When considering CrowdEngine alternative investment management software or any other crowdfunding software in general make sure it meets all your needs, in particular:
covers the reg requirements for the industry/niche
provides necessary features for issuers, investors and the admin (or this functionality can be developed on demand)
is compatible with third-party solutions
offers scalability and product offerings for different stages of your business
allows you to avoid vendor lock-in
If you're looking to build an investment management platform with LenderKit and need tech advice, reach out to our manager to discuss the next steps.