How to Use Crowdfunding for Property Development
If you have a property development company, you might want to incorporate crowdfunding and raise more capital for your projects and scale.
Whether you want to fund commercial or residential property deals, many crowdfunding property development platforms have access to institutional and the general public capital.
They can offer funds to unlock your upcoming project or finance the existing one.
Today, you will learn about property financing via crowdfunding and investment types. We will help you understand ins and outs of the niche. Beyond that, the article will cover the most popular crowdfunding software for property development in the UK.
What you will learn in this post:
The state of property market
Commercial real estate constitutes 7% of the country's GDP; its contributions to the national economy reach 101.2 billion GBP, reports The British Property Federation. The niche grows by more than 50 million sq ft of new properties annually with spaces costing 12 billion GBP.
As for residential properties, the most recent study by The Office of National Statistics indicates an increase of 3.4% of house price rates in the year to June 2020 (to compare: 1.1% to May 2020). These are monthly indicators.
The average price of a property in the UK as of June 2020 is 237,834GBP. To compare it with the last year benchmark of 230,292GBP, we get a 3% YoY market growth.
The UK is among the global TOP3 markets for crowdfunding with its share of 3.40% and a funding volume of $10.4 billion USD; it has one of the most well-established ecosystems for crowdfunding globally.
The UK's crowdfunded and peer-to-peer-supported real estate projects made more than 1 billion GBP; the average deal size reached 440,000 GBP.
Around 65% of all crowdfinancing went to debt-based deals and the remaining part was allocated to equity-based projects.
Notably, 91,8% of all the projects are residential while 8,2% are commercial properties.
| | | | |
| --- | --- | --- | --- |
| Crowdfunding Platform | Total Funding, GBP | Total Projects | Avg Deal Size, GBP |
| Cogress | 202,000,000 | 60 | 3,366,667 |
| Proplend | 158,000,000 | 98 | 1,612,245 |
| Property Partner | 82,000,000 | 122 | 672,131 |
| Octopus Choice | 136,000,000 | 250 | 544,000 |
| Kuflink | 73,000,000 | 250 | 292,000 |
Source: P2P Finance News
Sources of property financing
Property development firms use different ways to residential and commercial projects:
Equity financing
Debt financing
These two financing methods can further be divided into sub categories.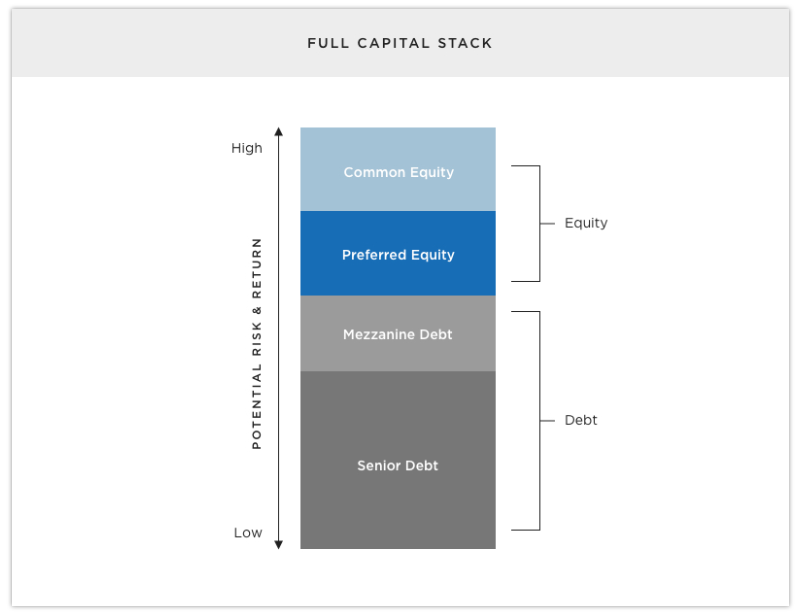 Equity property crowdfunding
In this case, backers owe a portion of your property. The holding periods depend on a project and usually vary from 3 to 10 years +.
Common equity
Backers of this type get the highest returns among all investors. Why? They are the last ones in the queue to get their share if, by any chance, a project is not reaching its goals.
The risks are high. But the returns are high, too (+ they are uncapped, reflecting your project success). Usually, such supporters earn up to 18% of yields.
Preferred equity
These backers expect up to 13% of ROIs. Compared to common investors, their risks are slightly lower but higher than those of debt investors.
To top it off, their returns are fixed and do not depend on your project success. The investor might get more than planned but this yield is limited to a certain amount.

Debt property crowdfunding
A loan investor becomes sort of a mortgage firm that gives you money to develop real estate. You will need to repay the debt when you sell the property or refinance it to another lender.
Senior debt
This type of debt usually constitutes more than ¾ of project capital needs. These loans are the 1st source of your funding. WIth relatively high security, backers expect 3 to 8% of ROIs.
Mezzanine debt
They say mezzanine debt is a mixture of debt and equity funding having the signs of both. Mezzanine loans can bring additional capital without the need of offering a lot of equity ownership. The backers can earn a minimum of 9% of dividends.
Usually, debt investments are short-term liquid loans of 6 to 24 month of holding period.
You might also hear about bridge loans that are a short-term form of loan that you can rely on before the major longer-term financing comes.
How UK property crowdfunding platforms finance projects
Whether you're looking to for UK property crowdfunding software to launch your own platform on or just exploring the property crowdfunding market, you can learn what industry players are offering, compare the options at hand, and find out what suits your business.
Investment crowdfunding software for property development is no longer new in the UK. There are a few well-established players that move the industry.
CapitalRise
CapitalRise has offers in three layers, for example. The latter include:
Short-term funding (up to 75% of LTV)
Development funding where real estate developers can concentrate on the project while receiving full coverage of their capital needs; the developers can get either up to 75% LTGDV or up to 90% LTC
Sales period funding where developers finish financing once the property is complete.
Among its recently financed projects are a bridging loan 1.5 million GBP and a development loan 6.9 million GBP, for example.
Shojin
Shojin promises to raise capital within weeks once the project passes their requirement. The company offers 12- to 36-month property development funding as well as mezzanine loans.
So you can raise additional capital without giving away much of your equity. Shojin charges approximately 2% of a backer's funds from a developer to pay for some of the transaction cost.
Homegrown
Founded in 2015, Homegrown has been connecting senior debt and a developer's own funds offering from 200,000 to 6 million GBP of capital. The firm has tailored-solutions for different kinds of projects and offers up to 90% of a development's equity needs.
Also read: "How Real Estate Crowdfunding Platforms Generate Revenue"
Crowdfunding software for UK property fundraising
LenderKit can help you manage full-cycle fundraising operations from user identification to solicitation and stewardship. The admin back office is very rich on features and will solve plenty of headaches related to manual work and documentation management.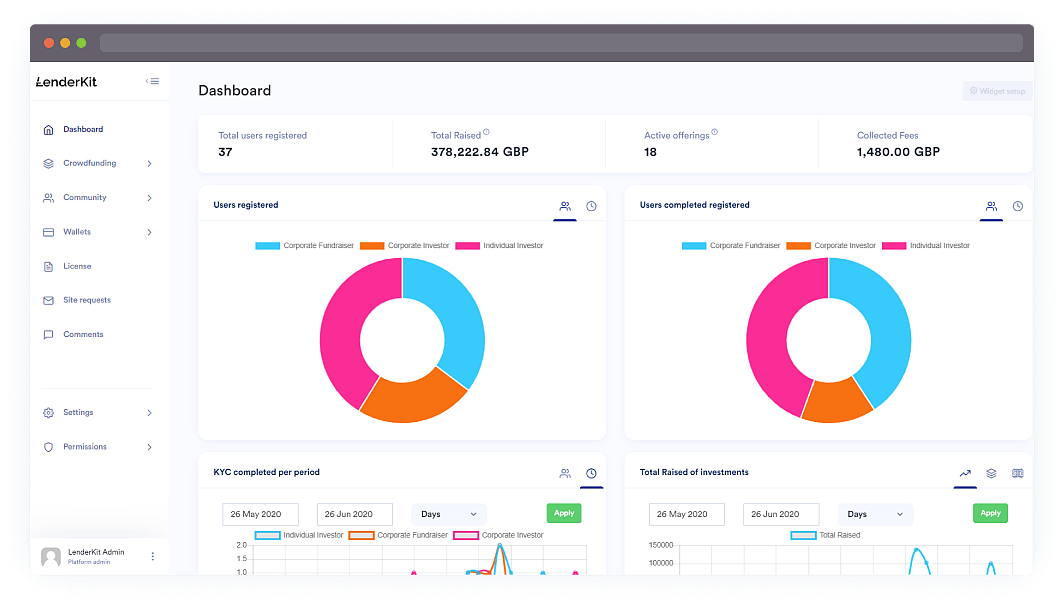 For your customers, we offer a customisable investor portal that will allow investors to browse and invest in listed property deals which you can add either manually as an admin or let your fundraisers upload all of the required info.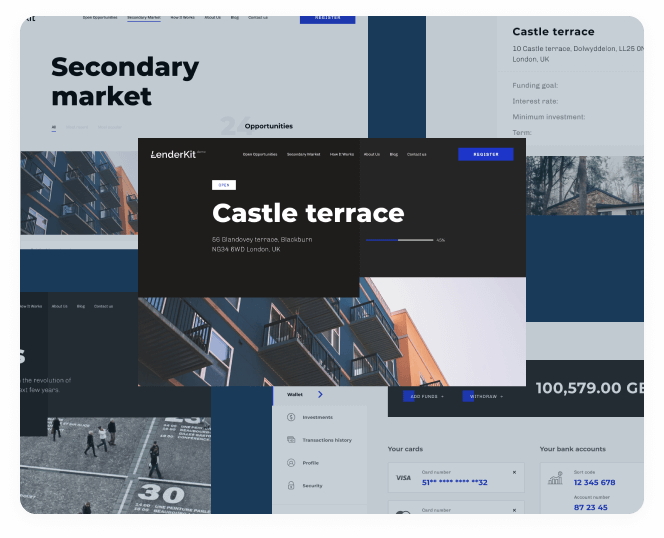 Final thoughts
Crowdfunding property development is a great chance to reach a global audience of backers and create a top-level strategy. You can streamline fundraising for your real estate development business using our property crowdfunding software – LenderKit.
We provide white-label and custom software options to help you automate your business operations, reach more investors, and increase your business revenues. Interested to see LenderKit in action? Schedule a live demo.