Is It Too Late to Start a Crowdfunding Business in 2020?
Kickstarter, Indiegogo, Seedrs, Realty Mogul, Fundrise, Octopuschoice… How many more platforms are already out there?

We found that there are at least 2,700+ crowdfunding and P2P lending platforms in the UK and US combined as of 2019-2020. But does the market keep growing or is it doomed to decline? Is it too early or too late to start a crowdfunding business in 2020?

The short answer is "No. It's just the right timing."

Last time you came this early bitcoin was trading at $100. So, now is the time to watch the emerging markets like Mexico, Africa, Europe and the MENA region as well as the trends like technology, green energy, and crypto-backed lending.

What you will learn in this post:
Global crowdfunding market valuation and climate
Currently, the crowdfunding and P2P investing market is steadily growing worldwide. In fact, according to MRRS, the global crowdfunding market is valued at $10.2 billion in 2018 and is expected to reach $28.8 billion by the end of 2025, with a CAGR of 16.0% by 2025.
The UK and Europe crowdfunding
From our observations at LenderKit though, several markets that are hitting some sort of stagnation, one of which is the United Kingdom. The UK is one of the first more or less FCA-regulated markets, and things seem to start slowing down there in terms of new crowdfunding platforms appearing on the market.

"I haven't seen new platforms entering the market as of lately. There are several already established crowdfunding platforms in the UK."


– said Sam Robinson, financial services regulatory expert at CMS Law, in the interview.
However, this stagnation in the UK means growth and expansion in Europe. From the ECN conference we visited in 2019, we learned that FCA is currently working on establishing general European crowdfunding regulations which will enable cross-border investing and much more.

The new regulatory framework will allow European businesses and entrepreneurs to start equity crowdfunding and debt investment marketplaces in multiple industries and countries.

Crowdfunding in Mexico and the USA
Crowdfunding in Mexico is going to change significantly. As the new regulations are taking place, more and more entrepreneurs are getting interested to start a crowdfunding business in Mexico.

In 2018-2019, CNBV, the National Banking and Securities Commission, received 85 authorization requests to operate as a Financial Technology Institution, according to the post at the official CNBV website.

Thanks to the Mexican Fintech Act issued on March 9, 2018, many Fintech companies including payment providers, debt and equity crowdfunding got the green light to try and test their business models as well as undergo the necessary regulation and compliance procedures.

Similar to the Saudi Arabian Monetary Authority Sandbox, the Mexican authorities have also established a sandbox where businesses can test their ideas on a real audience, get advice, and eventually register a crowdfunding platform.

The situation with the US market remains the same as new platforms have to register with FINRA and SEC. Also, already registered platforms have to renew their registration every year through the Renewal Program.
Crowdfunding in Africa

ACFA, the African Crowdfunding Association, released a document on June 26, 2019, that explains the major ACFA Label Framework and provides basic guidelines on the African crowdfunding platform requirements.

Currently, the most active types of crowdfunding in Africa are donation and reward-based which require no strict regulations and are relatively easy to operate. However, African entrepreneurs, non-profits, and authorities are also looking to level up crowdfunding to provide debt and equity investment opportunities.

"… We need innovative approaches to SME finance in Africa. Crowdfunding has the scope to become a much bigger part of the funding landscape in Africa, linking pools of domestic and international capital to job-creating investment opportunities." .


– said Mark Napier, Director of FSD Africa
To ensure growth of the economy and its sustainability Africa needs long-term finance. Powered by UKAid and European Crowdfunding Network (ECN), FSD Africa and ACFA are transforming the Fintech landscape of the country.

Crowdfunding in the eastern part of the MENA region
Launching a debt or equity crowdfunding business in Saudi Arabia is easier now thanks to the opportunities provided by the Monetary Authority.

SAMA opened a Regulatory Framework Sandbox which allows companies to test their crowdfunding business model and platform. Entrepreneurs and already established firms are granted access to a test environment where they can conduct business operations and receive regulatory guidance.

In other words, the government stimulates Fintech business development in Saudi Arabia and helps companies start a crowdfunding business on the right foot.

How to start a crowdfunding business in 2020?
With the emerging markets and trends all across the globe, the opportunities for your crowdfunding business are endless. Whether you want to support a social cause or contribute to the economic growth and digital development of a particular industry, the formula remains the same.
Define your crowdfunding platform type
There are several parameters you may rely on when defining your crowdfunding platform type:

Previous experience (e-commerce, real estate, banking)
Personality type and traits (energetic, conservative)
Personal interests and values
Market demand
Financial capabilities
Networking, etc.
When you take into account a broader spectrum of values, experiences, and desires, it's easier to come up with a particular choice on the crowdfunding platform type. There are four of them – donation, reward, debt, and equity – so how do you choose?

Any platform type has proven to be successful which means that the determining factor is anything but the type of the platform itself.

Pick a niche and define the most suitable market
Seeing a prevalence of donation and reward-based platform in Africa or the rise of debt and equity platforms in Saudi Arabia or watching a unified regulatory framework set up in Europe may become the right indicator for you.

The success is usually defined by luck and timing. Currently, you have several emerging markets with multiple opportunities for growth. However, a niche should be carefully defined. You can probably pay attention to the following industries:

Trending:

Technology – reward, P2P, equity
Green energy – donation, reward
Solar energy – donation, reward, P2P, equity
Green bonds – P2P
Cryptocurrency – P2P, asset-backed securities
Permanent:

Real estate – equity, private equity
Personal loans – P2P, donation
SME development – P2P, equity, private equity
According to the monthly crowdfunding report by StartEngine, Technology is the most trending industry which accounted for 25.3% of all the capital raised in September 2019.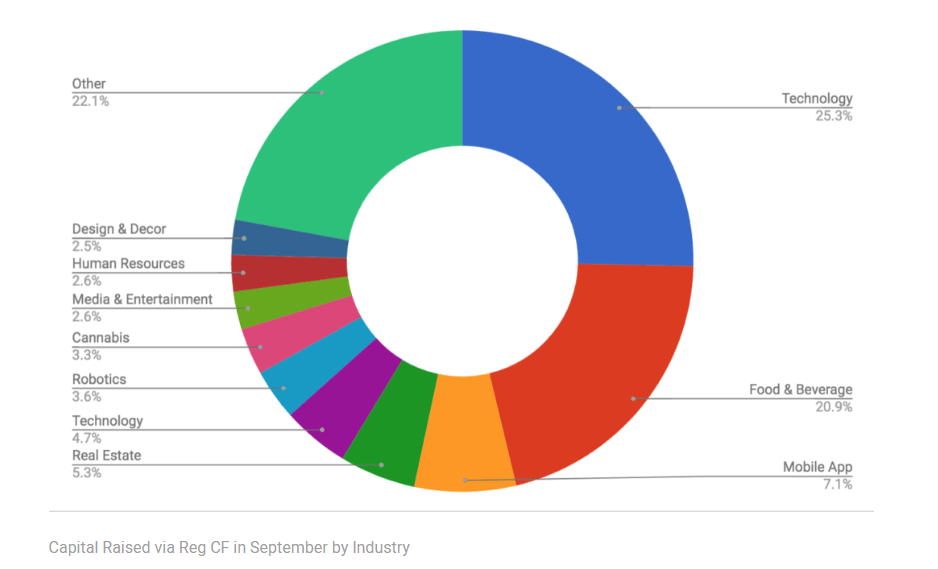 If you look at the general behaviour on the market and how some industries are growing while others are declining, you'll see an interesting pattern.

When an industry is booming in one country it's dying or emerging in another country and vice versa. Just like you can see now a 53.5% growth in wind turbine installation in the US, you can observe a 17.2% decline in Canada, according to IBISWorld.

Same works for crowdfunding. Watch the trends in a particular country or region and diversify your strategy by industry or region to keep your crowdfunding platform running successfully.
Learn about the regulations in your country

Crowdfunding regulations are constantly changing. More and more countries are defining the regulatory framework as can be seen from above. Thus, Africa, Saudi Arabia, Mexico and Brazil are shaping their Fintech regulations while ECN is determined to create a unified regulatory framework.

The best business decision you can make is hiring a professional lawyer or legal advisor who is particularly experienced in crowdfunding, P2P lending, and investing. You need an expert to guide you through the country's regulations, somebody who will decode legal language to you, so you can transform it into business objectives.
Launch an MVP or build a crowdfunding platform from scratch
In many markets, you're a pioneer in crowdfunding and P2P lending solutions because the regulations are just forming along with the market itself.

So, when you're launching a prototype or MVP you're not running out of time. You're the one pushing the industry and forming its rules. For many entrepreneurs, starting a crowdfunding business is a great opportunity to disrupt the market and get settled while everybody else is hesitant to start.

At LenderKit, we help individuals and businesses like you to get started with a white-label crowdfunding platform or help you build a custom solution.

As crowdfunding platform development service provider, we offer an attractive ecosystem:

Admin Back Office
Marketing Site and Web Portal
Third-party integration opportunities (Payment processing, KYC/AML, etc.)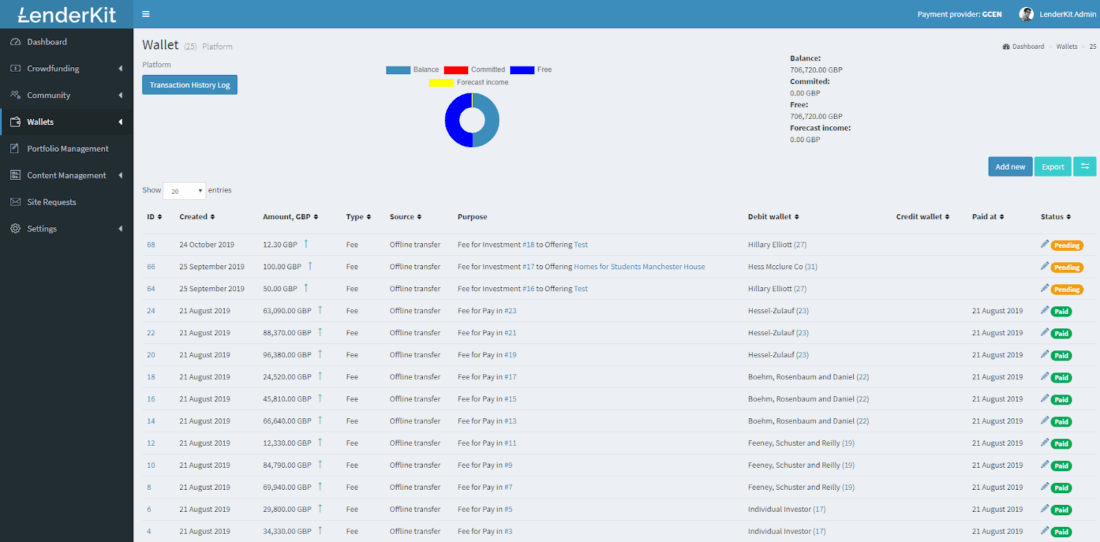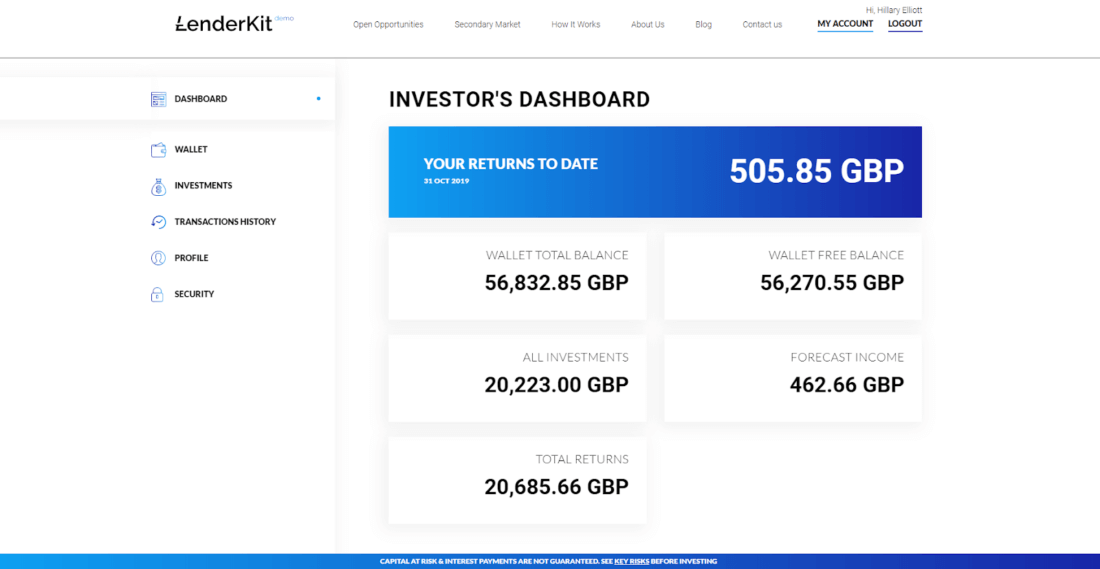 We like to position our solution as a 55% ready and 45% customisable crowdfunding platform where we can design and develop tailor-made investment flows, modules, user roles, layouts and much more.

Basically, we take the existing functionality which is pretty much the same in the core of every crowdfunding platform and build a custom layer on top. It might sound simpler than it is, but you can be sure that our solution is regularly tested and is made up to the latest security standards with 2FA, code encryption and more.

LenderKit-based solution helps you reduce the development time and costs because you are not starting from scratch, but rather from a fully-tested and optimised foundation which can be customised according to your needs.

In the FAQ section, you will find answers to the most common questions, and you can always contact us if you need more information.

Register a crowdfunding platform or find an umbrella service
Registering a crowdfunding platform is a time-consuming and scary process. However, it's not as complicated as portrayed. There are 3 ways you can register your crowdfunding platform:

Pitch to authorities yourself and go through the Regulatory Sandbox similar to Saudi Arabian or Mexican one if it exists – the most complicated approach but gives you the freedom to scale and grow.


Find a white-label solution which provides licensing – the easiest option short-term but the hardest option to scale and grow in the long-run.


Find an umbrella licensing service provider. You can spot umbrella-licensed platforms by this message "an appointed representative of company X which is registered and authorised by X" – the intermediary option for those who want to get started quickly and then switch to their own license.
Some of our clients have chosen to go with an umbrella licensing service provider and are currently making a transition to their own licensing and payment gateway system.

A few others decided to go through the Regulatory Sandbox and are at the finish line already.

These examples show that there are options for you as well. It doesn't matter what you choose – it's still going to work. It all depends on your budget, deadlines, and many other factors which only you know about.

Final thoughts on starting a crowdfunding business
Launching a crowdfunding platform now is probably risky, but also the most rewarding. Crowdfunding software development companies and service providers like us have already gained the required expertise to lead you through the technology framework and advise on the best solutions for your particular business.

The major risk is with a country's regulations, however, you know better if this risk is acceptable for you.

The timing is just right.

If you've enjoyed this article – share it with your team and trusted friends, don't forget to leave it 5 stars and subscribe to our blog for more updates on the topic.
If you have any questions about how LenderKit works or need advice – reach out to us at lenderkit@justcoded.com.