How to Start a Crowdfunding Business in Texas
Starting a crowdfunding platform in Texas may be an interesting opportunity for new businesses and established companies that are looking to expand into new markets.
Texas has its own intrastate crowdfunding rules and guides to help you register a crowdfunding portal in Texas, learn about the investment and fundraising limits as well as other insights for running your broker-dealer or funding portal.
What you will learn in this post:
Why starting a crowdfunding business in Texas?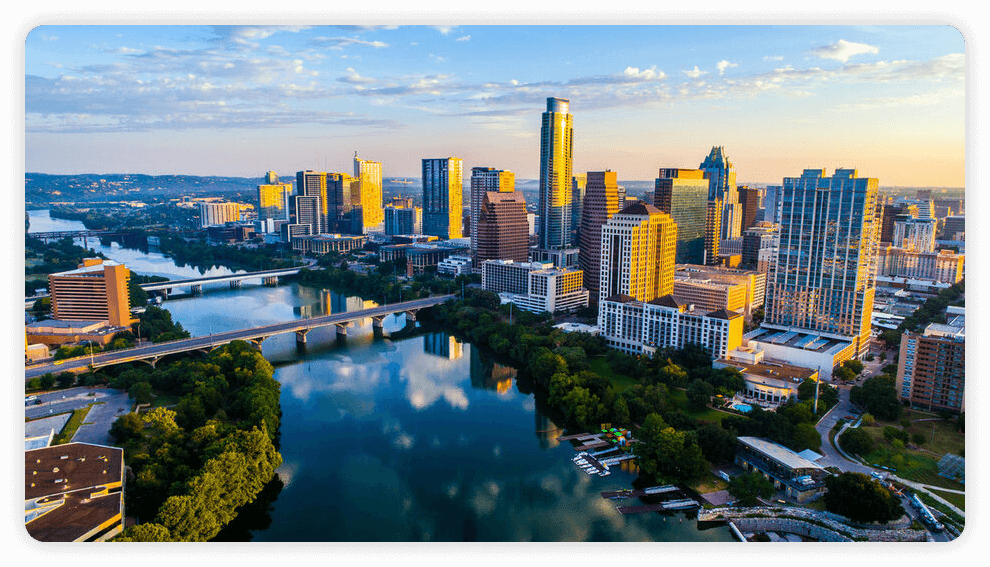 Texas is the second largest state in the US in terms of population and accounts for 29 million people which is around 9% of the country's total number of citizens. In fact, 75% of the population in Texas are older than 18 which creates a great potential base of both non-accredited and accredited investors.
With a relatively small cost of living compared to California, for example, Texas is getting even more attractive, especially during the coronavirus.
The state has a steady economy with 95 companies headquartered in Texas which made it to Fortune 500 list in 2020. In fact, more companies are moving to Texas including Oracle, Hewlett Packard, 8VC and other big brands from Silicon Valley.
With more companies and individuals coming to the market, the financial question is likely to be a priority. New crowdfunding platforms will get an opportunity to fill in the market gap and cover different segments from microfinancing, P2P lending, and crowdfunding to venture capital and private equity.
Currently, there are only 5 registered crowdfunding portals in Texas.
Texas intrastate crowdfunding rules
Texas is one of the states which have intrastate crowdfunding rules. Back in the day, 36 states made amendments to the federal Title III crowdfunding rules due to the slow speed of adoption of the rules as well as certain limitations on the federal level.
The in-state rules are usually more preferable either for investors or fundraisers and differ from state to state and certainly differ from the federal rules. According to Mark Roderick, a crowdfunding attorney, you can have both Title III crowdfunding and intrastate crowdfunding offerings on your crowdfunding portal but you have to consider the technical details.
Firms looking to set up a crowdfunding portal in Texas have to comply with the Texas intrastate crowdfunding rules. This limits the portal's operations to working with only Texas-based fundraisers which issue and sell securities within the state.
Platforms may work with the common stock, preferred stock, or debt securities and provide a varied offering to the investors. However, crowdfunding portals in Texas are not allowed to have a secondary market.
The board has certain requirements to the portals which are explained on the official website. Here are some of the highlights.
Crowdfunding portals in Texas can post the following information related to a particular stock offering:
the type of equity: for instance, preferred or common stock;
the geographic location of the business offering securities;
the business domain of a company;
the number of backers and investment amounts in an offer;
the progress an issuer achieved towards its final goal, the max offering amount, and min or max investment allowed.
Beyond that, the regulator outlines the scope of activities that Texas crowdfunding portals cannot perform:
offering investment consulting;
compensating stakeholders that are not licensed by the Securities Commissioner to deal with securities;
using any other than a segregated account means to handle investor's capital or financial assets;
being associated with a company offering its stock on the portal;
holding a financial interest in a business offering stocks through the portal;
receiving any financial compensation for the work done for/on behalf of startups seeking capital.
Moreover, portals have to conduct thorough checks of businesses planning to raise capital before posting any offering on their websites. In addition, Texas Crowdfunding Portal Registration and Activities Rule defines the number of records that a portal must keep and the filings it has to do.
Profitable Texas crowdfunding niches for your business
Texas crowdfunding portals have plenty of industries to focus on such be it real estate crowdfunding or startup financing. The core industries in Texas include:
Oil and gas
Construction
Technology
Green energy
Agriculture
Military and defense
Healthcare
Oil, gas & clean energy
The energy sector has a promising future in Texas: the state leads the country in crude oil refining. But local alternative energy projects are popular, too. Open to 18 +, anyone can invest in hand-picked solar and wind initiatives. The U.S. Energy Information Administration suggests that the state can boast of plentiful biofuel and biomass resources.
As more and more businesses worldwide favor renewable energy cutting down on carbon-intensive ventures, ⅔ of the executives in the energy sector report undertaking eco-friendlier projects at their organizations. And in 2019, small-scale customer-sited facilities generated about ⅕ of Texas solar power.
For example, in 2012 Dallas alone had a goal to cover 40% of its operations in a sustainable way and turned into a leading clean energy consumer in the country. Another Texan city, Austin is renowned for its GreenTech scene hosting more than 5 dozen sustainable energy startups.
Real Estate
One more profit-making domain is real estate crowdfunding. The total amount of investment influx in the local property market amounts to 28 million dollars across 31 deals (~900K USD per backer). Texas real estate crowdfunding capital is split among its top-tier cities with Dallas driving most of the business:

Among these projects, 48% of capital went to commercial equity, 29% to residential debt, and 23% to residential equity deals.
Although the forecast for a home rental market is rather pessimistic, in 2021 local single-family housing will be in demand. As for commercial real estate hindered by doing biz online and working-from-home, office rentals will revive starting from Q3FY2021.
Startups
In addition to energy and real estate, Texan innovative startups are worth considering for equity crowdfunding. For starters, the state was ranked #1 place across the country to launch a business.
Besides, the Founder Institute attributes the success of Texan entrepreneurs to their high 'emotional stability' that is the world's highest here. Or even better, Inc.com calls the state 'Southern Silicon Valley' and has its own reasons why some businessmen choose to launch and nurture their startups in Texas.
Some of the Texas-born startups that harness the benefits of equity crowdfunding are cybercrime fighters Atense, live stream shopping app Oveit, and independent authors platform BookSniffer.
Software for starting a Texas crowdfunding business
To get started with your crowdfunding portal in Texas, you can use our crowdfunding software – LenderKit. It has plenty of out-of-box features including the Reg CF portal functionality to facilitate your SEC or local compliance.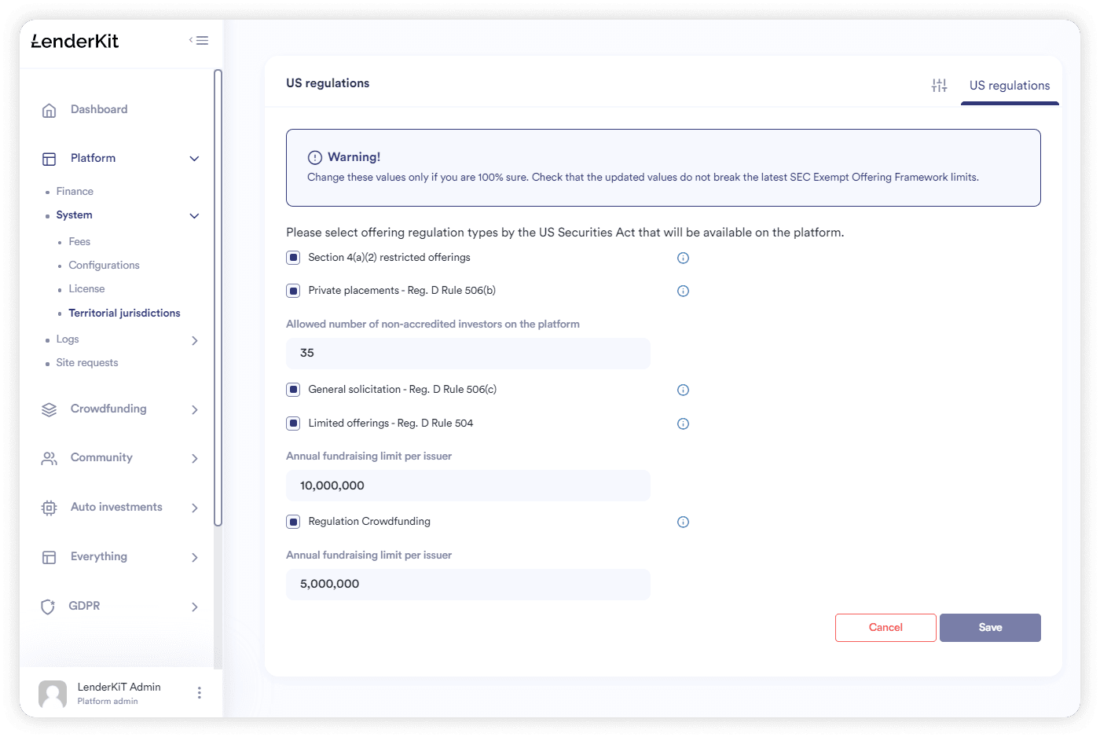 Currently, the Reg CF module is developed to comply with the federal laws, however, it can be easily adjusted to fit the intrastate needs of your business.
The system supports multiple investment flows including equity, debt, donations and rewards and allows you to configure different fees, offering settings and more.
LenderKit facilitates full capital raising cycle including:
User onboarding via a marketing site and user portal
KYC/AML automation for conducting due diligence
Investment flow automation
Payment processing via a third-party integration
Certificate eSigning via DocuSign or another provider
Repayment flow configuration
Our business model allows us to build and configure custom-tailored portals that SaaS companies offering one-size-fits-all products cannot. LenderKit has the necessary building blocks for a fully-fledged crowdfunding platform development if you plan to set up a Texas real estate crowdfunding portal or SME crowdfunding portal.
Escrow for Texas crowdfunding portals
To store investors' money and process transactions, funding portals partner with licensed 3rd party payment processors. Texas crowdfunding escrow needs are no different from other US crowdfunding businesses.
PrimeTrust, for instance, an innovation-driven custodian and trustee, got a powerful financial infrastructure after its 2018-acquisition of FundAmerica and its investors' capital processing tools. PrimeTrust escrow pricing varies and depends on the offering type: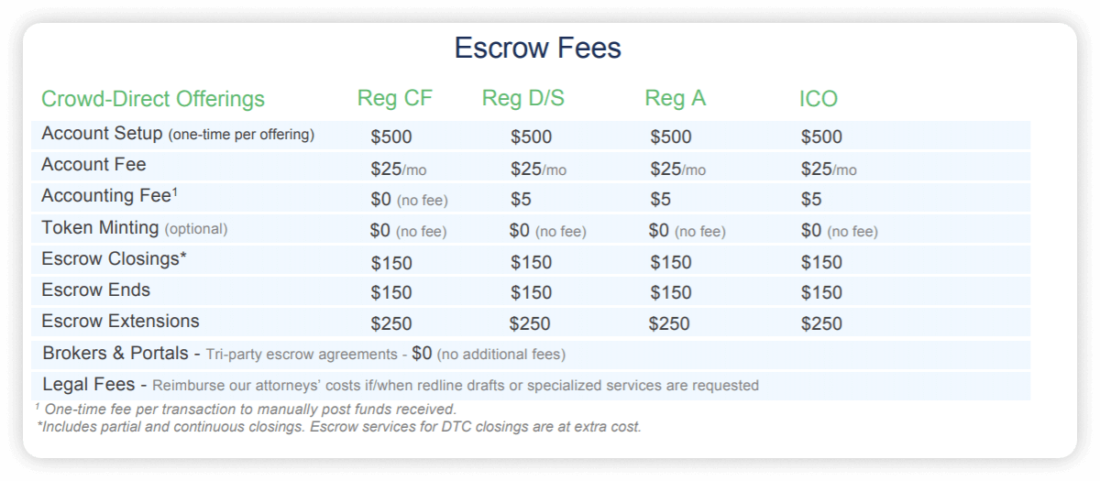 AssemblyPayments offers a trusted payment solution for the FinTech industry, too. Along with a standard escrow mode, its solutions include Partial Escrow. Additionally, donation and reward-based platforms can benefit from Assembly's Express payments, and Pay-by-text options. The company complies with The Payment Card Industry Data Security Standard (PCI DSS) Level 1. Furthermore, it's recognized as a Money Service Business by the Texas Department of Banking.
WePay, a subsidiary of JP Morgan Chase, offers seamless payment solutions that can be easily integrated with crowdfunding portals. Offering Delayed Payouts and Tipping Point Payments, WePay pricing options depend on monthly volumes and an average amount per transaction:

Final thoughts
There are many reasons to set up a crowdfunding portal in Texas from business expansion to competitive advantage if you want to be a state-focused platform in a particular niche.
Fast-developing major cities and suburbs with affordable real-estate make Texas a perfect spot to launch a new venture. LenderKit can equip you with the tech tools to enter the Texas crowdfunding market and help you scale as you grow. Schedule a demo to see what our solution can do for you.