Crowdfunding Software Providers in the USA
You can enter the USA crowdfunding market either as a broker-dealer or a funding portal. Regardless of the type of intermediary, you need a crowdfunding portal to operate online. 
There are several ways to go about starting a crowdfunding business in the USA:
In this article, we cover the major US-based crowdfunding platform developers and software providers to facilitate your research.
What you will learn in this post:
CrowdEngine
CrowdEngine is an investment management and business automation software for real estate and startup fundraising. The company focuses on the Reg D, Reg A+ and Reg CF investments and provides a Compliance Engine which helps you automate offering management, document flows and KYC/AML verification.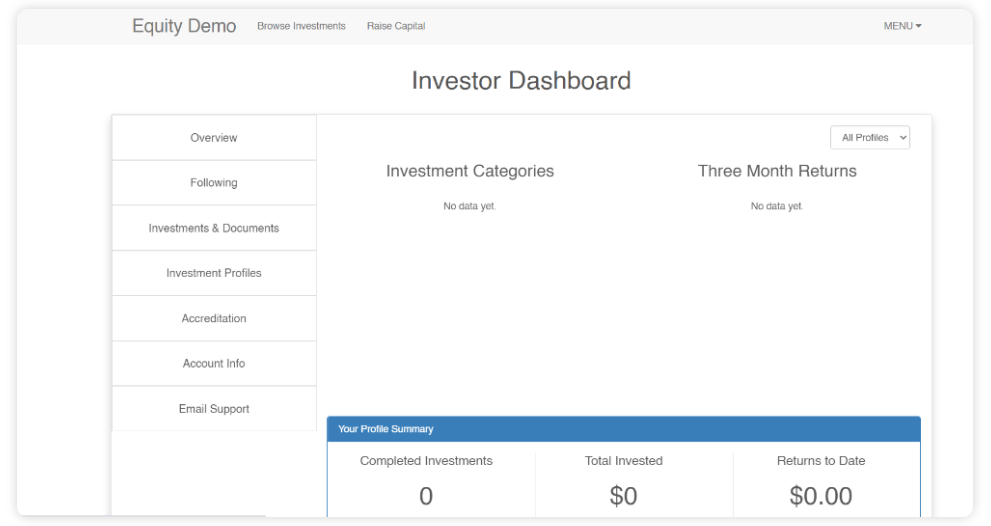 The CrowdEngine software helped at least 10 businesses to streamline investing and fundraising operations and automate due diligence processes. The investor portal allows for earnings monitoring, managing documents, and receiving regular updates on new offerings.
The tech company offers in-built CRM or an option to connect with another system a client chooses. On top of that, it allows creating different types of investor profiles including Entity, Individual, or Custodial.
GroundBreaker
GroundBreaker offers investment industry players to "impress their investors" with automated real estate crowdfunding, portfolio reporting, and investor management. It sees its goal in enhancing every client's syndication business.
The Chicago-based firm has feature-rich software that integrates contact relationship management, investor portal and communication, deal rooms, Form 1065 sharing, and distribution automation.
GroundBreaker has different pricing tiers and offers monthly, annual, and 2-year memberships. Its Pro Unlimited package "has it all" except ACH Addon, and the starting cost is 100USD a month with an activation fee paid on top. 
Alternatively, if an investment management firm wishes to go for extended functionality and include ACH Addon, it can opt for an upgraded membership at a starting price of 150 USD per month and a one-time activation payment.
GroundBreaker's membership final costs depend on equity under management and subscription duration. Whiteglove data migration is an extra service offered by the Fintech company as an option to import existing documents and deal information.
LenderKit
LenderKit is white-label investment management software with full customizability options. The company serves the USA, European and the MENA markets. The software facilitates a full fundraising cycle from user onboarding and KYC/AML verification to capital solicitation, dividend payouts and reporting. 
LenderKit offers 3 products:
Investor portal – the account area where fundraisers can create new offerings in which investors and allocate interest or invest 
Admin back office – the admin area where the admin user can give permissions to staff members and appoint responsible users for accounting, data compliance, KYC/AML, portfolio management, etc.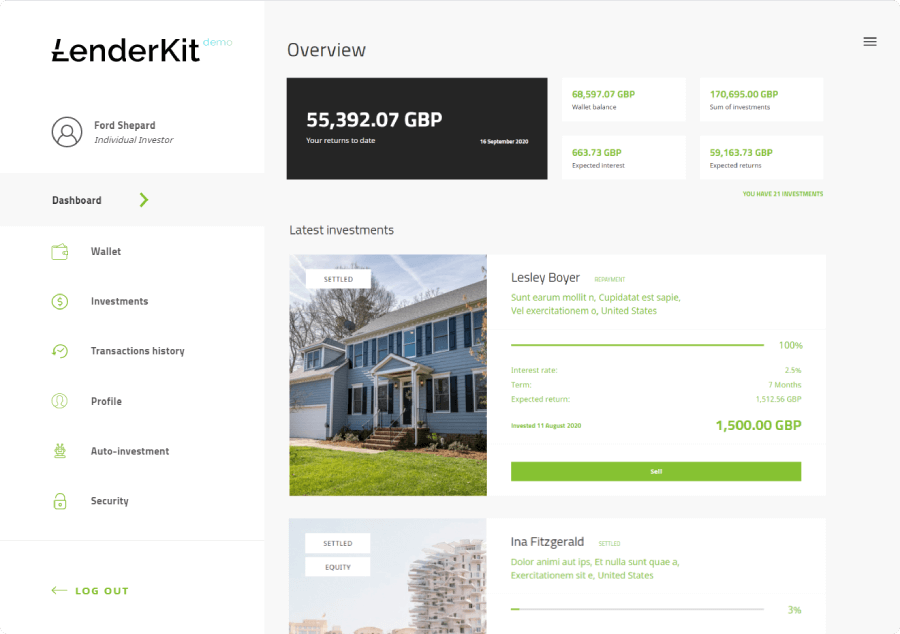 CrowdFundConnect
CrowdFundConnect provides white-label crowdfunding software for private investments and reg CF fundraising. Compliant with SEC and FINRA requirements, the software tracks and manages all transactions and offers enhanced security as well as in-built statistics and analytics.
CrowdFundConntect's drag-and-drop website lay-out editor allows for higher flexibility and more opportunities to engage with different user groups. Whether an investment firm uses the general solicitation rules under REG D 506 (c) or files under other SEC exemptions for accredited investors, CrowdFundConnect has functionality that covers both options.
Integrated SalesForce and DocuSign, FinCEN audit system, and documents management allows businesses to run private equity investment and Title III crowdfunding portals in the USA.
CrowdPay
From donation to real estate, CrowdPay has custom solutions for different types of crowdfunding portals. The software vendor has a white-label offering that includes predefined email templates, flexible or fixed crowdfunding models, secure payment integration, mobile-ready UI, and cloud-hosting.
Its turnkey solution has a robust admin backend and helps businesses stay intrastate and globally compliant and launch Reg A+, Reg D, and Reg CF crowdfunding portals with custom forms and bad actor checks. CrowdPay has a variety of plans and offers Test the Water, Single Offering, Professional, and Enterprise packages.
CrowdfundHQ
The company has offices in Oslo, Norway, and the US; it offers white-label hosting and development tools to build crowdfunding portals. The FinTech firm has a cloud-based suite of instruments that help automatically set up a new site. The company offers flexible pricing options and allows businesses to choose from three different monthly subscription plans.
The software provider offers a 14-day free trial with an opportunity to upgrade or cancel any time. Offering 100%-customizable software, CrowdfundHQ packages have an unlimited number of users and serve the needs of business incubators and equity crowdfunding entrepreneurs alike.
CrowdfundHQ offers instruments for smooth contributions and campaign management, robust marketing tools, a site control panel, a layout engine, and an integrated blog. The solution is a developer-friendly turkey option that has all the necessary assets, including images, Javascript, and CSS on Github.
IgnitionDeck
IgnitionDeck has its turnkey IgnitionDeck Enterprise – a white label crowdfunding solution. The software provider allows registered users to create and modify campaigns from the front-end of the main website via a custom dashboard menu.
The turnkey solution by IgnitionDeck offers software to host unlimited projects, accommodate unlimited rewards levels, comprehensive admin rights, advanced hooks, and filters among many other features.
The company sells its solution for crowdfunding either with annual and lifetime licenses that cost 349USD or 999USD respectively.
Final Thoughts
There are many crowdfunding software providers in the USA which can help you build a robust investment management platform.
At LenderKit, we can provide you with a flexible tool that can help you with full-cycle fundraising and gradually move from an essential version of the product to a more comprehensive one. 
See LenderKit product packages
Our turnkey offering has all the necessary components to help you kick off your crowdfunding business. Would you like to see LenderKit in action? Schedule a demo to find out more about how we can help you with the business launch.