Investor Portal Software for Crowdfunding
According to the SEC, companies that issue securities under the Regulation Crowdfunding can conduct offerings exclusively through an online platform.
Companies with Reg D, Reg A/A+ offerings are free to decide – whether or not they need an online website for crowdfunding deals.
The SEC is strict when it comes to investor security. The regulator advocates Reg CF investor portal requirements to make the fundraising process as smooth and transparent as possible.
This article describes the main goals and functions of investor portal software and its necessary toolkit.
What you will learn in this post:
The SEC's requirements to funding portals
If you're considering starting a crowdfunding business, you can follow the SEC guidelines which outline the requirements to funding portals.
First off, the company is to be registered with the SEC and have membership in the Financial Regulatory Authority (FINRA).
Second, a funding portal should be wired the way to:
provide backers with educational materials about the investment process and risks related to it.
disclose a limited amount of information about companies to investors.
screen issuers for complying with the regulatory requirements for crowdfunding offerings and Regulation Crowdfunding.
establish communication channels and means on platforms to let investors with active accounts stay in touch with the issuer and its representatives.
keep investors informed about the compensation the intermediary receives.
accept investments from backers only after they have opened accounts and consented to electronic delivery.
inform about investment commitments and confirm the completion of transactions.
comply with completion, cancellation and reconfirmation of offerings requirements.
comply with maintenance and transmission of funds requirements.
There are also additional requirements ( e.g. security policies and procedures) to funding portals that they need to satisfy to stay in the business.
No matter what model the provider uses (investment crowdfunding or p2p lending), they have to translate the above guidelines into the tech capabilities.
Key objectives of investor portals:
provide backers with a handy tool to make investments, track earnings and access new offerings.
let investors communicate with fundraisers and the crowdfunding provider.
simplify client management and speed up request processing for crowdfunding providers.
Setting up an investor portal allows the investment management team to automate crowdfunding operations from registration to capital solicitation and dividends payouts.
LenderKit – turnkey investor portal software
LenderKit is investment management software which is suitable for Reg CF, Reg A and Reg D crowdfunding. We cover SME, green energy, technology, agriculture, and real estate industries by providing robust software features which cover your investors' and fundraisers' needs. 
The investor portal comes with the rich investment management functionality which allows you to manage offerings, users, transactions, payout schedules, auto-investing, permissions, GDPR and much more.
Our clients get lots of customisation options and can adjust LenderKit to their business reality.
For every role, there's a personal area (dashboard) to fulfil certain tasks.
What can your investors do with LenderKit dashboards?
verified investors are allowed to browse offering details and make investments as well as set up auto-investing preferences
they can add personal and financial info to their accounts
backers get a tool to manage investments, monitor investment performance, top-up e-wallets or sell investments
all contributions are processed online via 3rd party payment service or offline transactions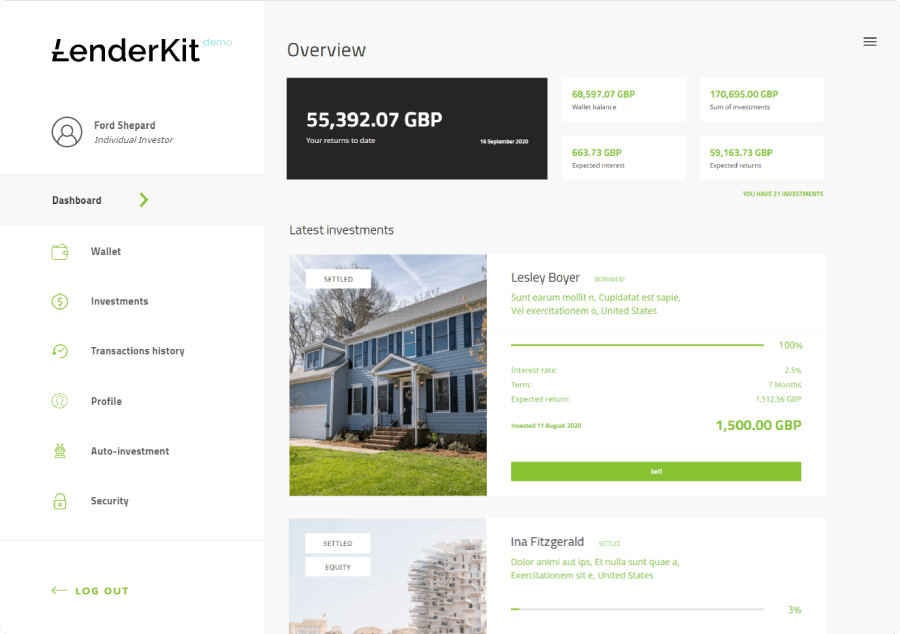 The LenderKit investor portal is designed to serve a typical or custom investment flow that consists of several steps:
The investor selects a deal offering
Then they confirm the amount of investment they're eager to make
Finally, the backer accepts the legal agreement
Investor gets a certificate
This flow can easily be advanced and extended as per your requirements.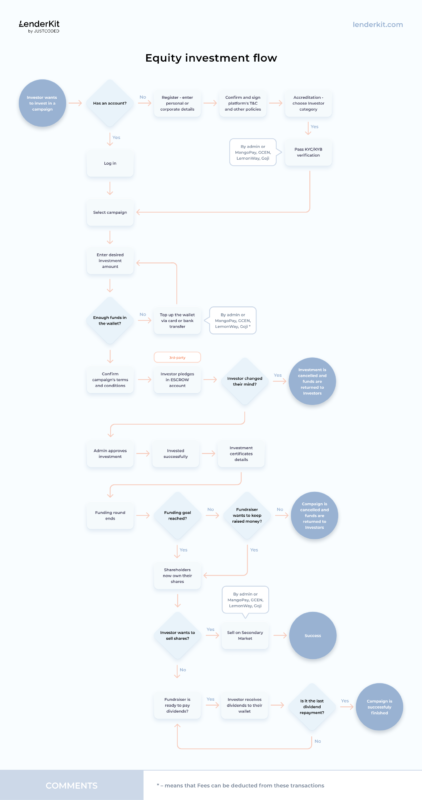 "Want to see the equity investment flow in action? Contact us"
You as a platform owner can manage the entire investment cycle through the admin dashboard.
LenderKit can serve as a private equity investor portal or investor portal for a fund.
Alternative solutions for everyday and accredited investor portals
It's always good to have options, no matter what we're buying – food, clothing or software.
If you're exploring the market of white-label solutions, take a look at our guide on software vendors.
This article is focused on the one feature – investor portal for crowdfunding business.
CrowdEngine
CrowdEngine is a Software-As-a-Service (SaaS) crowdfunding platform for product/reward, non-profit and investment opportunities.
Its investor module comes with pretty standard functionality:
investments and document management
contributions and earnings tracking
current and new offerings viewing
investor reporting and statistics
Crowdfund Connect
Crowdfund Connect is a white-label platform for private equity and crowdfunding.
The investment process is based on the Invest Now system. The tool collects investor data and requires sign-off of accredited investor status.
Workflows and audits can be managed through integration with Salesforce and DocuSign.
Platform owners can use funding page dashboards to manage and track clients and visitors.
Groundbreaker
Groundreaker software is geared towards real estate fundraising. It's equipped with an Investor portal where your clients can view investment updates and track distributions.
The tool helps platform owners enhance investors' experience by providing the second with one place for information.
A secure login is everything the investor needs to enter the personal area.
Real estate holdings, portfolio performance, tax documents, reports, emails, distributions and contributions – all this is stored in Investor dashboards.
Real estate investor portals can be accessed from any device.
CrowdPay US
CrowdPay is another investor portal solution. The software covers different models and fits different niches.
Its real estate investor portal features include:
investment dashboard to track holdings, documents and returns
a watchlist to view projects right from the dashboard
multiple investment profiles ( individual, entity and custodial)
comments and question area to let investors and issuers interact
Final thoughts
Investor portals are vital attributes for crowdfunding as an alternative method of financing. They are to meet the SEC requirements and deliver optimal client experience.
They solve two important tasks: investors get an intuitive tool to manage contributions and earnings while admins track clients' activity and process requests faster.
If you're looking for a white-label investor portal or want to build a custom crowdfunding platform just drop us a line. We'll provide you with a LenderKit demo and guide you through the pricing options.