14 Things Crowdfunding Can Be Used For
From raising capital for a business to seeking capital to get out of debt, crowdfunding can be used for pretty much anything.

Crowdfunding is a method of fundraising for a commercial or non-commercial project. The whole concept relies on "pooling money from the crowd", but in practice, private crowdfunding platforms can be developed to sponsor high-value deals.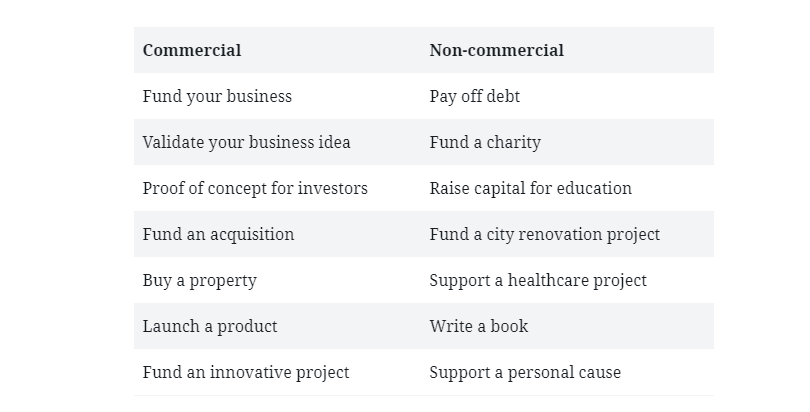 A fundraising campaign happens on a crowdfunding platform which connects investors with borrowers. For commercial projects, debt or equity instruments are used to fund the new venture. In contrast, non-commercial projects are mostly seeking donations which require no paybacks to "investors" or backers.

The return on investment is the major difference between commercial and non-commercial crowdfunding projects. While the projects may be non-commercial, every crowdfunding platform is created for profit and relies on transaction and management fees. 

For here, let's dive into the crowdfunding examples and how crowdfunding can be used by regular businesses and individuals.
What you will learn in this post:
Fund your business
Businesses often use crowdfunding as an alternative fundraising method compared to traditional bank loans. Many startups are not qualified for a bank loan because they can't pass the screening process or simply don't want to for whatever reason.

Crowdfunding helps businesses to build professional relationships with the crowdfunding platform and investors. In the process, a business may gain vital connections through networking and marketing that will help the startup to develop further. In case of a successful crowdfunding campaign, startups are likely to be introduced to angel investors or VCs and will keep growing their business.

For investors, crowdfunding is an attractive opportunity to invest in startups because it allows even non-accredited investors to join with as little as $10. Depending on the platform and its focus, the starting amount may vary between $10 to $100 or $500 to $5,000 or higher.
Validate your business idea
Before even starting a business, creators may test their ideas through crowdfunding. Usually, the creators are individuals or corporations looking to test new product lines.

To run a "proof of concept" campaign, entrepreneurs invest in designs, mockups, promotional videos, 3D modelling, prototypes, etc. When everything for a campaign is ready, creators market their ideas like crazy to get the required traction and early-stage customers. A negative response or no response whatsoever is a good indicator that the idea is a failure, but at least not all of the capital is lost building a business for several years which nobody cares about.

In contrast, a positive response from their target audience means that the business idea is successful and worth investing in.
Proof of concept for investors
Proof of concept for investors is slightly different compared to idea validation. When entrepreneurs lack confidence or data, they validate ideas. In contrast, when entrepreneurs are 100% sure in their idea, they need data to prove to investors their idea is valuable and worth investing in. 

The results of the crowdfunding campaign may be used in a presentation for pitching to bigger players such as banks or VCs. For example, BNP Paribas is using crowdfunding to validate business owners before allowing them to take a bank loan.
Fund an acquisition
Private crowdfunding platforms can potentially be used to fund merge and acquisition projects. However, such deals will not be open to the general public or even sophisticated investors. A deal of such magnitude is likely to be processed in close circles.

Using the Reg A+ exemptions, platforms can fundraise up to $50 million for either SMEs or real estate projects. At this point, the line between crowdfunding and private equity firms gets blurred.

Buy a property
Real estate crowdfunding business is a massive industry which is rapidly growing across the globe. The major models include buy-to-sell or buy-to-rent offerings. 

Usually, real estate crowdfunding platforms don't fund off-the-ground construction projects and are mostly focused on house renovation or flipping. 
Also check: How to Build a Crowdfunding Platform for Real Estate
Launch a product
Crowdfunding for a product is not only the domain of reward-based crowdfunding. It's also possible to use debt and equity instruments to fundraise for a new product.

Platforms like StartEngine, SeedInvest, CircleUp and others are among the top debt and equity crowdfunding platforms for startup investing. 

You may also like: Can Crowdfunding Make You Rich?
Fund an innovative project
From the fundraiser standpoint, crowdfunding for an innovative project is the scariest part because of the high chance of counterfeit. Innovators are afraid to expose their ideas because they might be stolen by corporations which have the required funds to copy and scale the products quickly.

Despite that fact, crowdfunding is extremely popular when fundraising for an innovative project because it helps to get the market's response within several weeks or days.
Pay off debt
People also use crowdfunding to get out of debt. Clearing debt campaigns are usually run on donation-based crowdfunding websites. However, you may also encounter debt-based crowdfunding platforms which offer loans to pay off the debt.

In this case of a loan, the P2P lending platform will have to conduct decent due diligence on the fundraiser to make sure they can pay back within a certain period of time or provide the collateral. In the digital world, it's often about crypto-backed crowdfunding. 
Also read: The Risks of Managing a Crowdfunding Platform
The whole idea is that people borrow money to pay off a debt in a bank. This tactic is used to pay off the interest before it goes wild, and increase the credit score.
Fund a charity
Non-profit organizations with a social impact mission regularly benefit from crowdfunding. Getting capital elsewhere is hard, so leveraging the power of community to fund a social cause is very effective.

This is done through donation-based crowdfunding only, but some organizations or individuals may offer something in return to backers, usually, exclusive products, events, or access to some information and materials.

Raise capital for education
Research centres, schools, and universities may often need funding for improving their services, conducting research, expanding and growing their institution, etc.

Crowdfunding for education can be both commercial and non-commercial. Individuals may often seek funds on donation-based platforms to cover their education expenses, while schools may require funds to build new divisions or launch commercial products and services, courses, classes, etc.
Fund a city renovation project
Local authorities may turn to crowdfunding to raise capital for renovating certain parts of the city. Things that require capital include architectural building renovation, building statues, setting playgrounds, parks, etc.

In 2017, Brighton and Hove council launched a crowdfunding campaign on Spacehive to restore Madeira Terrace. The campaign was fully funded by 2095 backers.

A city renovation project may potentially gain traction and contribute to the local economy. If the renovated city can attract tourists and investors, the project might further be commercialized.
Support a healthcare project
In most cases, the healthcare projects are supported on donation-based platforms like GoFundMe. Such projects are related to personal health issues.
However, healthcare is a huge industry which can easily be incorporated by debt and equity crowdfunding platforms. From medical equipment to healthcare apps and services, there are plenty of startups and established businesses looking for capital.
Write a book
A dream of all self-published authors is to get funds for releasing a printed version of the book and invest in marketing and promotion.

Raising capital for your own book is a classic example of what crowdfunding is used for. Authors often hang out on Indiegogo, Kickstarter, GoFundMe and similar platforms.
Support a personal cause
On donation-based platforms, people crowdfund for pretty much anything – hobbies, education, flats, events, equipment, small businesses, etc. The craziest thing we've encountered is crowdfunding for funeral expenses… Jeez.
Also, out of all crowdfunding "niches", crowdfunding for personal causes is the highest risk of fraud and abuse. Since such crowdfunding campaigns are relatively easy to launch, they are most popular among ingenuine users. 
There are a lot of ways how crowdfunding can be used to make an impact on local and international communities. Crowdfunding is only getting its momentum as more and more people discover the power of this fundraising method. Such a demand creates opportunities for crowdfunding platform developers and business owners that either want to get started in the field or digitize their offline business.