Why Crowdfunding Platforms Fail and How to Succeed
Investment-based crowdfunding has been recognized as a viable way to raise funds. By the end of 2019 and in 2020, more than $211 million were raised on alternative funding platforms. This amount has doubled in recent years and by 2025, the crowdfunding market is expected to grow by almost $200 billion at the expected compound annual growth rate of 15%.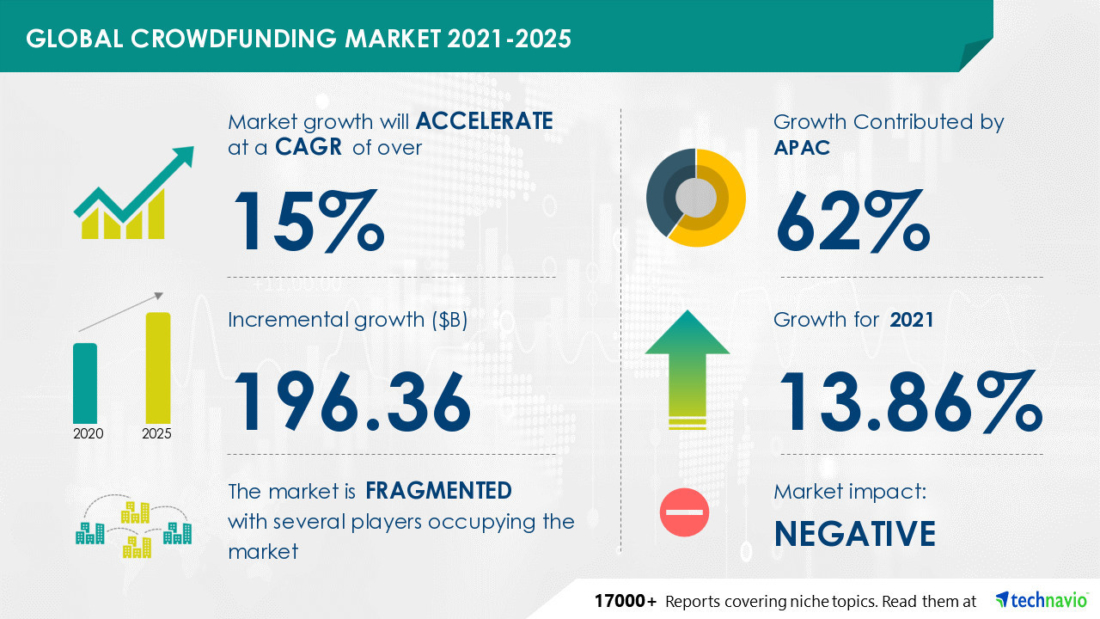 These numbers can make you believe that the majority of crowdfunding platforms are successful businesses. However, this may far from the truth.
Like any new industry, crowdfunding is facing multiple challenges, and in many cases, these challenges make investment platforms fail. That's why if you are just starting your crowdfunding platform and want to grow your business successfully, you need to be aware of the major roadblocks and how to overcome them. 
What you will learn in this post:
Main reasons why crowdfunding platforms fail
Crowdfunding platforms may have poor marketing, be limited by regulations, face lawsuits and stumble upon technical challenges which cause the business failure. Let's have a closer look at crowdfunding platform challenges and what to do about them.
Also read: Why Crowdfunding May Never Get Big
Changes in crowdfunding regulations
Crowdfunding regulation is frequently changing to control the rapidly developing alternative investment sector. Crowdfunding platforms must ensure they are fully compliant with all regulation norms and follow all the modifications of the valid legislation. In many cases, legal changes force the platforms to abandon their usual business forms and look for new ones.
The most recent change in regulation is the introduction of the Regulation on European Crowdfunding Service Providers for Business (ECSP). While harmonization opens the door to many opportunities, it is also one of the major challenges. The crowdfunding platforms now will have to comply with a single set of rules responding to The European Parliament's Committee on Economic and Monetary Affairs (ECON), however, the European regulation and national laws can still create a certain disparity that may lead to confusion. Internal policies of the platforms shall also be changed to align with the new regulation.
As always, platforms have been warned against biased marketing for particular offerings and driving investors to invest in the "agreed offering". To ensure that the projects are offered to investors on a neutral basis, the platforms are prohibited from receiving any remunerations or non-monetary benefits from fundraisers.
The biggest innovation with this regulation is the Key Investment Information Sheet (KIIS) which should be understood by investors in their native language. Since the regulation offers cross-border crowdfunding, complying with these requirements may be quite challenging.
Platforms operating in Europe had to comply with these ECSP rules by 2022, however, the deadlines have been extended to 2023.
Challenges with third party integrations
Crowdfunding platforms frequently depend on third-party services, especially payment processing providers. As the latest research conducted by CrowdSpace shows, only 35% of platforms manage clients' money without an intermediary.
The platform doesn't need any specific authorization and "doesn't take responsibility" for the investors' funds if the payments are managed by a third party. But there are few payment services that cater to the full investment or lending process cycle which makes the selection of the right third parties difficult.
Using a third-party service also means paying high fees which may be an obstacle for a business at the early stage of its development.
It's not a rare case of crowdfunding payment service providers changing their business model or making the process overcomplicated which presses on the crowdfunding platforms and doesn't allow them to run the businesses as expected.
Crowdfunding platforms might consider getting a license to process payments directly through a bank, but this might not be a cheap one and will work for large platforms only. In the long run, it should help the business avoid high transaction fees and prevent technical issues caused by the imperfections of third-party payment systems.
In the meantime, working with custodians or payment processors is still a must.
Crowdfunding marketing challenges and low awareness
Crowdfunding regulation imposes restrictions on crowdfunding businesses when it comes to the marketing of their services and crowdfunding campaigns that run on their platforms. All information in marketing channels used by crowdinvesting businesses shall be provided in a fair, clear, and not misleading manner.
Platforms use different channels to market their services. Organic search which makes up 17% and is one of the main client acquisition strategies, affiliate programs and partnerships take second place with 15%. Further, other communication channels follow.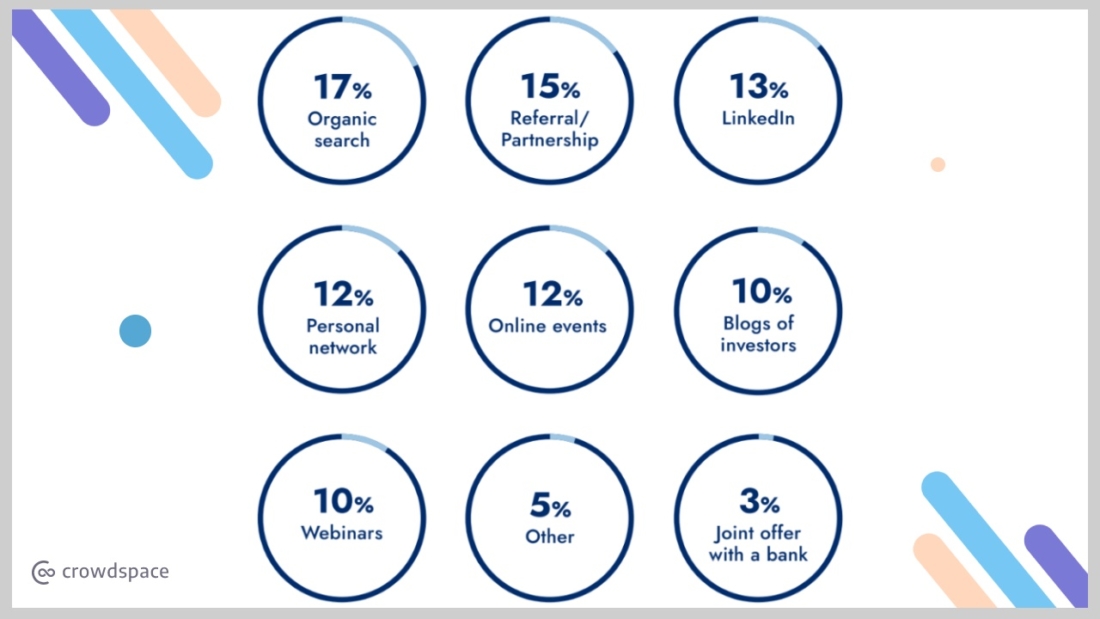 The number of marketing channels that crowdfunding platforms use, the quality and amount of content depends on the business' budget and the marketing team.
For a crowdfunding platform at the early stage of development, it might be challenging financially to deploy different marketing tools and hire professional writers to address the target audience adequately. The absence of proper communication with potential fundraisers and investors is one of the causes why a platform may fail.
How to grow your crowdfunding platform and succeed
✔️ Don't spend your last penny on software. The software should enhance your business and not drain it financially.
There are different investment crowdfunding platform solutions which can be suitable for your business stage, feature requirements and budget.
You can rely on a white-label investment software such as the one offered by LenderKit instead of spending money on developing your own platform from scratch.
LenderKit software is easy to use for investors, fundraisers and you as a platform manager. The platform is secure and can be integrated with payment gateways, cap table software, KYC/AML providers and other third-parties on demand.
✔️ Don't build your business around a couple of big clients. Even if they invest regularly which is not guaranteed, these investments will not be sufficient to maintain the platform, let alone expand the business. Address your marketing campaigns to a financially-capable audience to ensure the constant flow of projects and investments.
Also read: Crowdfunding Mentality or Where to Find People Who Invest
✔️ Determine specific KPIs for your business before investing in marketing campaigns. You may address your marketing materials to retail investors or your target audience may consist of accredited investors, or you may want to target both categories, but make sure you understand how much they shall invest in a project to consider it successfully funded.
For example, if you expect that accredited investors may fund 90% of the offering, while retail investors may fund the offering for 10% only, avoid such messages as "start investing with $10".
If your crowdinvesting platform was initially developed to cater to the needs of retail investors only, such messages may be an adequate way to address investors. Other than that, you may just as well target the professional investors only.
Final thoughts
Developing a crowdfunding platform is not easy but making it succeed is even more difficult. If you develop your platform from scratch, you need to consider plenty of details such as regulatory requirements, integrations without which the platform won't be functional, and similar.
By using a white-label investment software with a set of features that enable the portal operation, you will save a lot of money, facilitate legal compliance and have all of the needed integrations which will enable your fundraisers and investors to use the platform effortlessly.
If you'd like to learn more about the LenderKit crowdfunding software, check out the online tour or reach out to our fintech strategist for a live demo.