Sharein Alternatives
Sharein is a UK financial company that offers a range of services like investment management, payment processing, client money management, and direct investment software.
Through an Appointed Representative program, it offers its umbrella license to platforms that wish to skip the tedious authorisation process. Besides, Sharein has its own payment gateway and ISA management service.
Sounds like an ideal option, so why switch from Sharein to a different provider then?
The short answer is the FCA regulatory changes, business continuity risks, and limits to scalability of your platform.
In this article, we will discuss when it makes sense to consider Sharein alternatives and what extra effort will be required depending on the scenario you choose.
What you will learn in this post:
Why switch from Sharein
FCA regulation compliance requires having the whole compliance team that would take care of the reporting, policy drafting, and communicating with the FCA. Compliance experts are usually expensive, and obviously, becoming an AR of Sharein is more cost-efficient than getting an individual license.
Umbrella FCA authorisation gives certain benefits that other solutions can't beat:
speed to market;
business operations;
reduced costs;
ongoing compliance support.
So what happened?
This summer, FCA made permanent their temporary ban on marketing the speculative illiquid securities to retail investors. It means that if a platform deals in property funding, it can only market its deals to high-net-worth individuals and should have a prominent explanation on the platform about risks associated with the investment.
"The ban will apply to the most complex and opaque arrangements where the funds raised are used to lend to a third party, or to buy or acquire investments, or to buy or fund the construction of property."
Autonomous platforms with an individual FCA authorisation, like CapitalRise, probably changed the policy on their website, tweaked the investor acquisition strategy and put up a risk announcement you can't help but notice.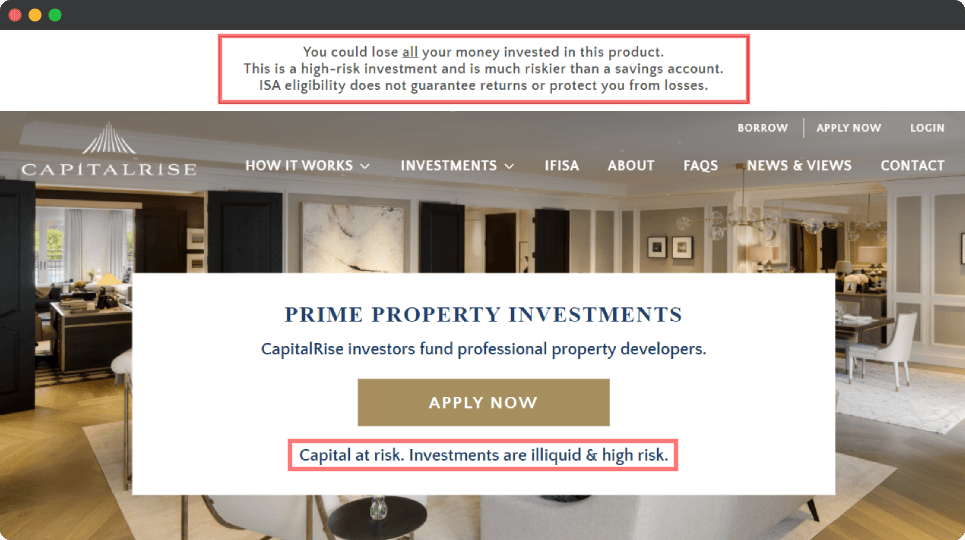 What about the platforms that used the umbrella licence?
Before this update came to effect on June 19th, several real estate crowdfunding platforms in the UK operated as an Appointed Representative (AR) of Sharein.
We can't state it 100%, but it looks like the ban by the FCA forced Sharein to revisit their umbrella services and withdraw from partnership with several property crowdfunding platforms including CrowdLords, DP Crowd and a dozen other companies.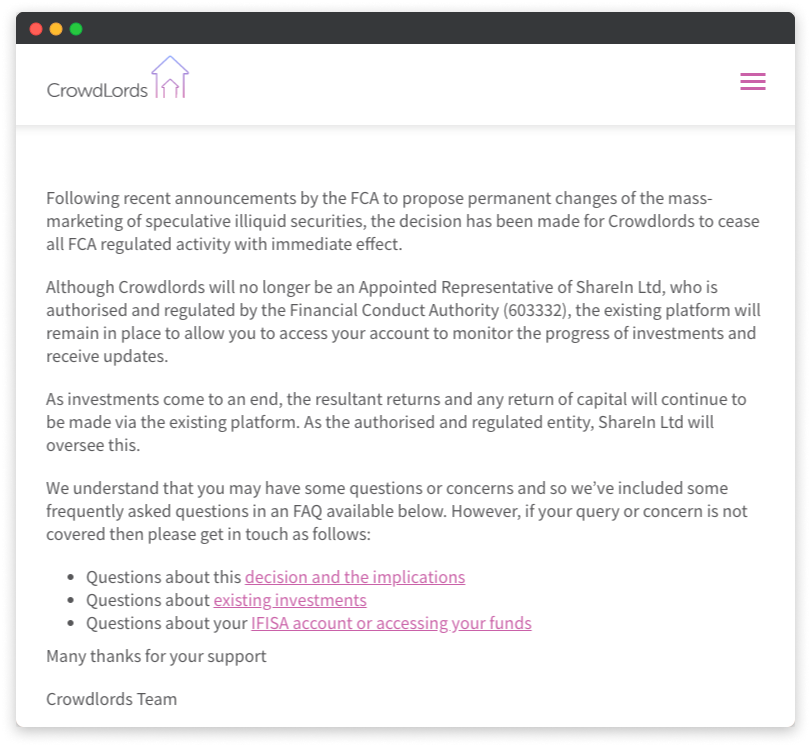 Alternatively, the affected platforms could have ceased their regulated activity without any move from Sharein as they had to stay within the legal framework. Some of these platforms are already back on track with an updated business strategy to focus on sophisticated investors, but it's surely a good lesson learned in terms of operational risks and sustainability.
Together with the umbrella FCA licence, Sharein offers a white-label crowdfunding platform which is a huge advantage over the rest crowdfunding software on the market. But to some, no compliance means it's time to look for a different solution or even build one from scratch.
Read more: How to license a crowdfunding platform
Sharein crowdfunding software alternatives. Build or buy?
The choice of crowdfunding solutions is not as limited as it was 5 years ago. Today, they match almost any budget, however, not all of them match the desired growth strategy a company many have.
CMS-based crowdfunding solutions and fundraising scripts are better suited either for smaller for-profit crowdfunding companies or for donation- and reward-based crowdfunding websites.
Also read: Buy vs Build Crowdfunding Software
Let's focus on crowdfunding software that allows building complex platforms and leaves room for growth.
WhitelabelCrowdFund
WhitelabelCrowdFund, a sister company of Rebuilding Society, offers a flexible platform with a variety of modules to choose from. In addition to the standard offering billed monthly, you can opt for a mobile app, bespoke design, and AR services.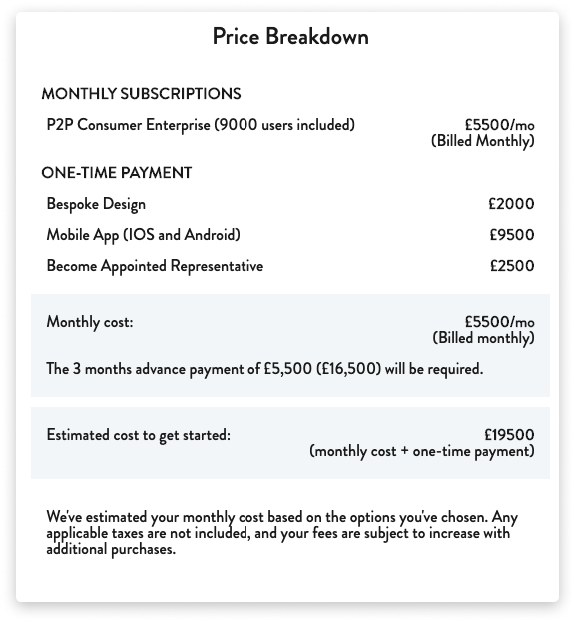 Use cases. This solution can be used to start a P2P crowdfunding platform, as well as equity investment portal or a donation website.
A significant downside here is that there's only a set number of modules to choose from and customisation means that the module set will be different depending on the client's needs.
Technology. Another potential concern could be that both the client-facing site and the back-office offered by WhilelabelCrowdFund are built with WordPress.

While WordPress could be a great option for a client-facing part of the crowdfunding platform, but under-the-hood operations are better to be built independently and with a thought-through database design.
Ownership. WhitelabelCrowdFund explicitly mentions that an exclusive license is hardly possible due to potentially lost opportunities for WhitelabelCrowdFund in this case. Fair enough, however this brings about business continuity risks and may actually push you towards building a fully bespoke and standalone crowdfunding platform that you will own.
LenderKit
LenderKit is another Sharein alternative although it's exactly a white-label crowdfunding software. Here's how it works.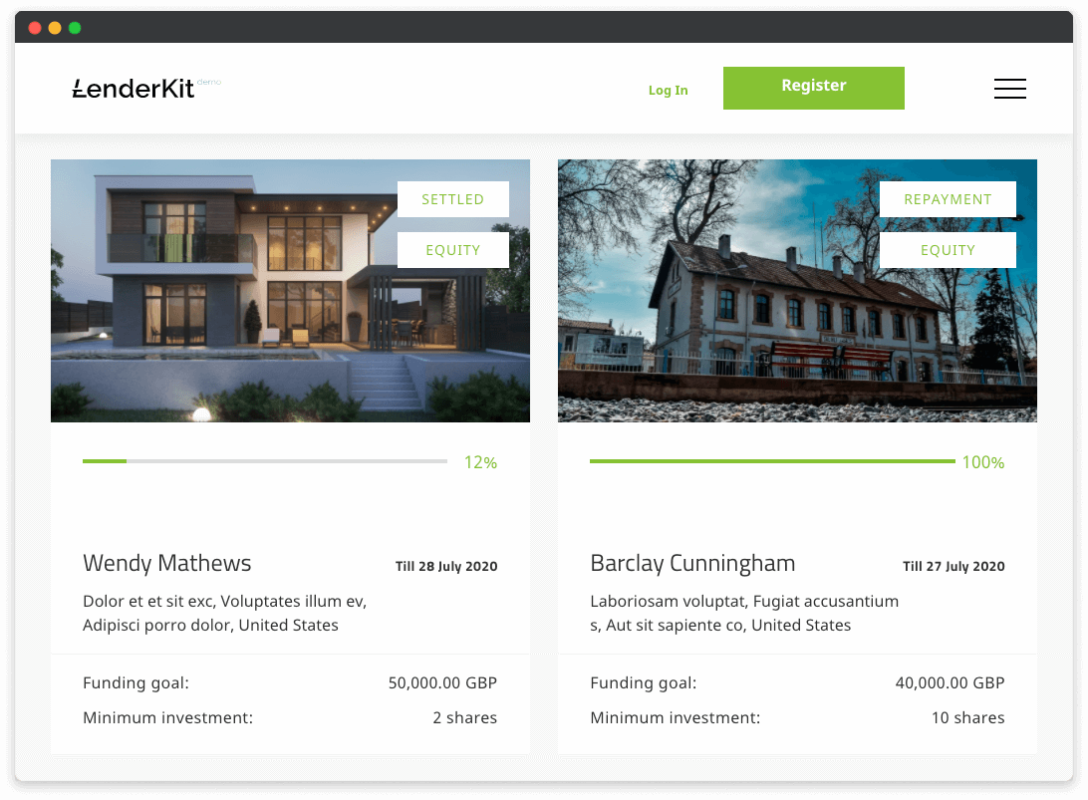 LenderKit offers the front-end part and a fully-functional back-office with extensive functionality to manage everything:
investments,
crowdfunding campaigns,
KYC status,
wallets,
payouts,
documents,
third-party services,
GDPR data,
secondary market,
auto-investing and more.
Use cases. Property crowdfunding and P2P lending are the business models that LenderKit clients most often operate, although the solution can be used for equity-based crowdfunding as well as non-profit fundraising.
Technology. LenderKit is built in PHP and integrates with any third-party service via an API. There are several integrations available off-the-shelf with the ability to extend the functionality further and modify investment flows or offerings as needed.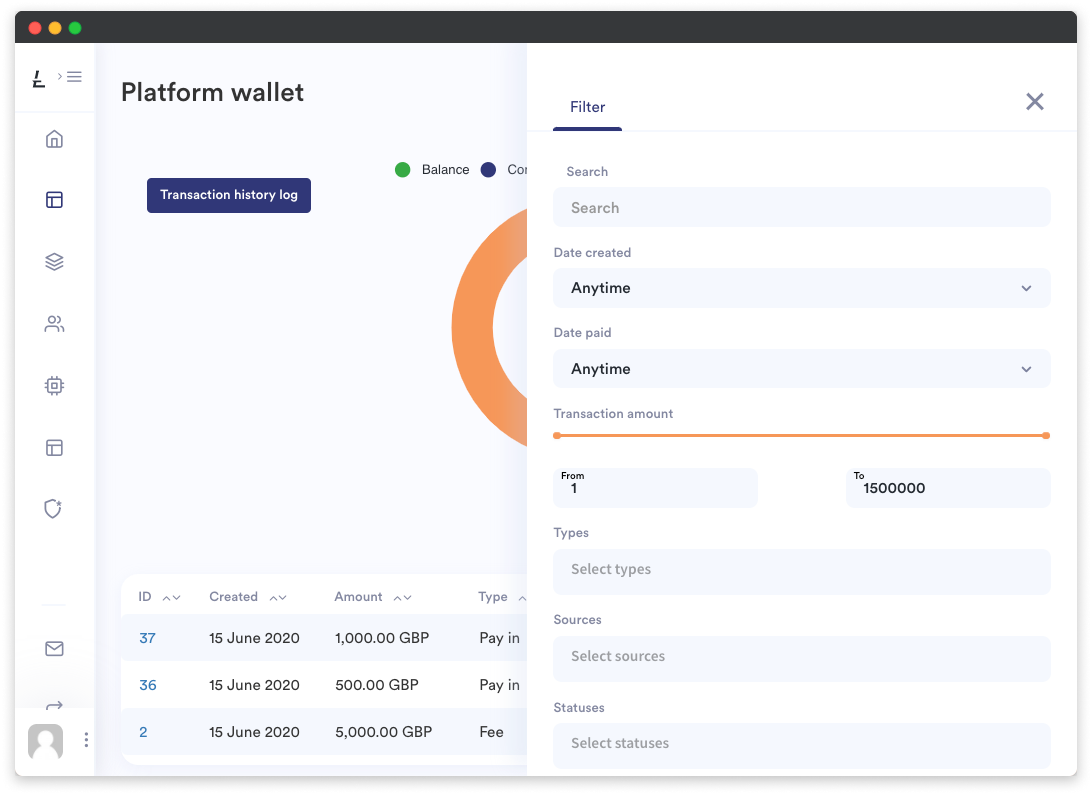 Ownership. There is an opportunity to use LenderKit licence with a subscription or buy it out completely.

Just Us
JustUs is a P2P lending platform serving the UK's SME lending market.
It's built with a bespoke technology that the company has recently decided to offer as a white-label solution to anybody who wants to enter the P2P lending sector.
There are no particular details at the moment but we will continue to monitor the company news for more information.
Read more: White-label crowdfunding software providers
Challenges of running a bespoke crowdfunding platform
Going fully custom without an AR licence is a mature decision of a business that has serious plans for growth and expansion.
Regulation-wise, there are a few challenges we'd like to bring to your attention to make sure you are prepared.
If you offer a tax-free investment using an ISA balance, you must adhere to the ISA regulations overlooked by HMRC. The most efficient way to do this is to partner with an existing ISA manager.
A possible Sharein ISA manager alternative could be Goji — an FCA authorised ISA management company that offers client money and assets custody.
Goji regulatory capabilities include payment processing, online KYC, digital onboarding and daily CASS reconciliations.
Final thoughts
The need to switch from an old-shoe crowdfunding software like Sharein may be biting and frustrating, but as they say, crisis is always an opportunity.
Perhaps, a Sharein alternative you pick will open up more room for business expansion and bring new growth ideas.
A quick roundup:
1. Appointed Representative licence is a great way to enter the crowdfunding market but be aware of the FCA changes that could affect your business continuity any time.
2. When selecting a Sharein alternative, pay attention to the deal you are offered: assess the customisation limits, technical reliability, and option to fully own the solution.
3. Outsource ISA management to authorised ISA managers who can handle the compliance tasks and let you focus on the business.
If you are looking for a crowdfunding software, reach out to us to discuss your requirements and see if LenderKit could be a potential solution.