Automate your loan management operations with LenderKit
LenderKit provides loan management software for consumer-focused or corporate lending businesses. The loan software packages fit both starting and growing businesses. You can either use a white-label P2P lending platform or go with a custom solution.
Request a demo
Loan origination software
Real estate lending software
SME lending software
Debt crowdfunding software
Launch your lending business from scratch or expand operations
Use a prototype to test your ideas
If you're early-stage and looking for white-label software to attract investors and test ideas, check out our "Basic" package.
Automate your existing operations
If you need lending software for going through a regulatory sandbox or provide to you users, consider "Professional" package.
Grow your business with LenderKit
If you want to go with a lifetime license, source code access or multiple licenses for different regions, explore "Enterprise" tier.
Allow users to request loans through a loan configurator on your site
One of the effective ways to source new deals and onboard borrowers through your P2P lending website is to have an in-built configurator. It allows borrowers to apply for loans and get a rough estimate on how much they can get and for what period and percentage.
This feature will empower your loan management software for real estate or SME lending. As per your request, you can either collect data right into your CRM or redirect users to the registration form to make your sales operations more efficient.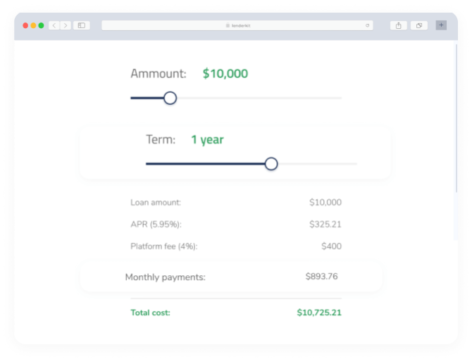 Screen new users and check their loan eligibility through registration form
A KYC/AML-ready registration form allows you to collect the required data from borrowers, loan originators, or investors and hand it over to an authorized third-party service provider or your internal department.
The registration form is an essential part of any loan management software because it helps you source only highly engaged and qualified deals and investors.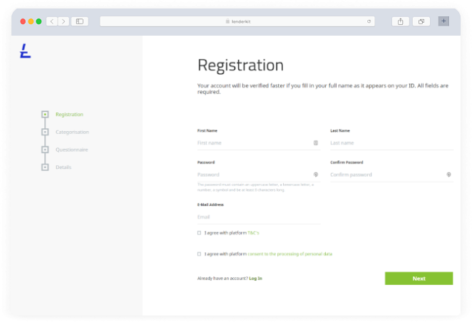 Manage documents and reports
LenderKit integrates with any e-signature and document management service providers. A reliable e-sign provider will help you reduce the paperwork and automate operations.
You may look into HelloSign, DocuSign, or other digital signature services.
See integrations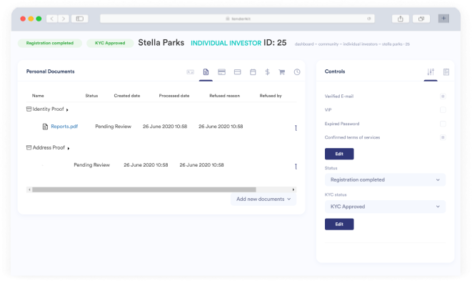 Process payments online
You can use LenderKit as an online ledger for financial history record keeping or you can integrate with a payment processing provider that will handle the compliance and money management burdens for a fee.
Payment gateways for P2P lending often deal with both KYC/AML and money processing, however, you can decide on separate providers or handle some operations on your own.
Learn more about payment integrartions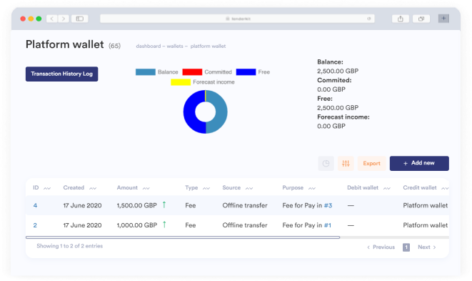 Stay GDPR compliant
We have an in-built GDPR module which facilitates your data regulation compliance requirements. You can appoint a data processing officer (DPO) and assign permissions and rights to a particular staff member who will be responsible for managing user data on your platform in a secure and compliant way.
Apart from that, GDPR module also allows you to:
Send notifications
Delete user accounts
Enable cookies on your lending platform
Learn more about GDPR module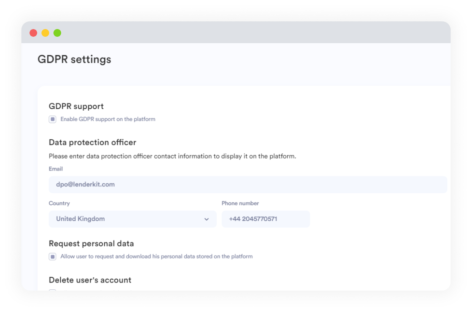 See our lending software in action