Syndication vs Crowdfunding
Syndication and Crowdfunding share some common financing principles and concepts, but have different entry capital requirements and level of experience from investors.
When we are talking about real estate syndication or even loan syndication, we mean a group of investors who fund a large asset collectively. At a first glance, this is exactly what crowdfunding is also meant for — funding projects by the means of a crowd.
However, the difference between syndication and crowdfunding lies in the target audience and funding amounts.
What you will learn in this post:
Syndicated investments
When it comes to real estate syndication, the entry sums may easily begin with $25,000 – $100,000. Normally, investors that participate in real estate syndication have some control over their portfolio and may even be involved in property management to some extent, depending on whether they are investing with trusted peers or through a real estate syndication platform.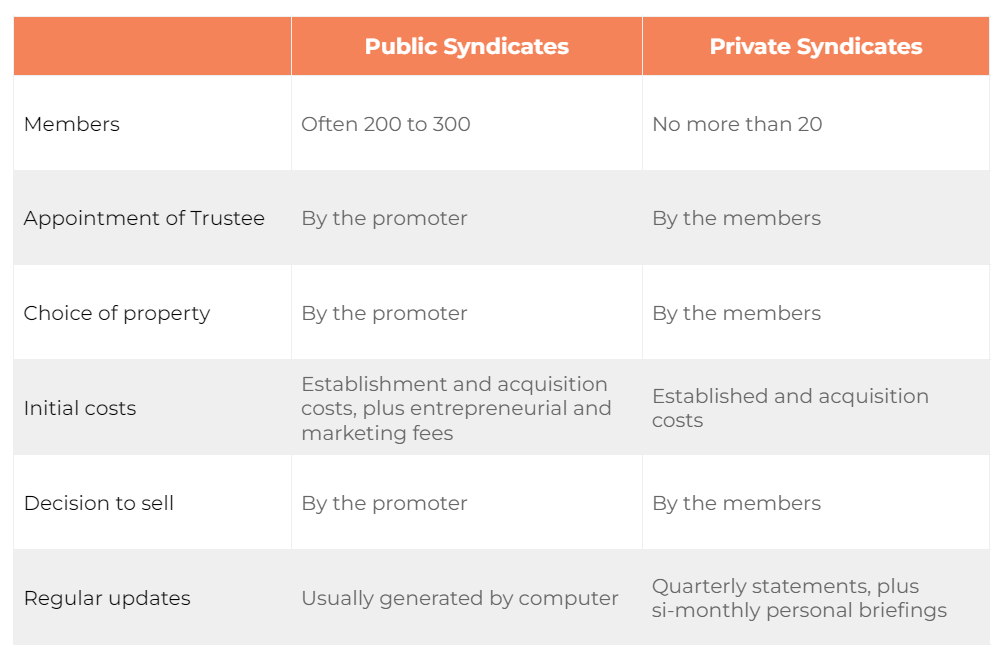 Syndicated investments don't necessarily refer to real estate only, because investors can pool money in startups as well.
The structure of a syndicate assumes having some escrow account where all the money flows before it goes over to the end project. Syndicated investments are usually structured through an SPV to fund a specific project and also organize investors in a cap table.
Who invests through syndicates
By their nature, syndicated investments are available to accredited investors who have money and experience to take part in such projects. The investing opportunities can be public or private:
Private syndication is usually managed "manually"
Public syndication requires some level of automation and more customer-oriented project management, so it's usually done through a syndication marketplace
The projects offered for syndicated investments vary depending on the deal size and are usually above $10 million, because anything up to $5 million falls within the "crowdfunding limits".
Crowdfunding overview
Unlike syndicated investments, crowdfunding is available for both accredited and non-accredited investors and officially allows raising up to $5 million depending on the country and its currency.
Investment-based crowdfunding is a trendy way of capital raising because it allows to work with a broader audience of investors and get more exposure for the project while also receiving some sort of seed funding.
In contrast with syndicated investments, the entry capital requirements for crowdfunding are very low and range depending on the platform from $50 to $1,000 or so.
The buzz around crowdfunding caused many investment marketplaces and syndicated investment platforms to adopt this word for their marketing purposes. With the mass recognition of crowdfunding for its financial and marketing potential, the definition of crowdfunding has blurred, and now anything where you raise capital from a pool of investors is considered crowdfunding.
Nevertheless, most crowdfunding platforms manage match-funding opportunities through SPVs which are created for each project individually. To protect investors and make operations smoother, platforms also use an escrow account provided by an authorized third-party payment gateway for crowdfunding purposes.
So, the concept of running and managing the business is pretty similar. However, crowdfunding platforms make money on successful funding commissions, document management, reporting, amendments and marketing packages that are offered to fundraisers.
Also read: How to start a crowdfunding business
Popular crowdfunding platforms
Crowdfunding platforms direct their marketing efforts either to the wide range of startups or get focused on a specific niche to gain the market share.
StartEngine
StartEngine is an iconic equity crowdfunding platform in the US because it is versatile and offers Reg CF, Reg A and Reg D investment opportunities. It's able to provide multiple rounds of financing to startups from $5 million to over $75 million, according to the limits set in the regulations.
CrowdCube
CrowdCube is a large British crowdfunding marketplace where one of our clients, Charm Impact, raised over £240,000. CrowdCube is also focused on different industries and competes with a crowdfunding platform like Seedrs which they wanted to merge with.
Niche crowdfunding platforms
Niche-focused investment crowdfunding marketplaces include:
Popular syndicated investment marketplaces
To compare crowdfunding platforms vs syndicated investment marketplaces, let's have a look at the industry leaders such as EquityMultiple, CrowdStreet.
CrowdStreet
CrowdStreet is a real estate investment marketplace which is available for accredited investors only with the minimum capital requirements of $25,000 to invest.
EquityMultiple
Equity Multiple is another real estate investment platform which allows investors to start with only $5,000.
While CrowdStreet is more focused on commercial real estate investing, EquityMultiple also targets residential property as can be seen from the entry amounts as well as marketed projects on both marketplaces.
Difference between syndication and crowdfunding
The major difference between syndicated investments and crowdfunding is in how platforms approach the relationships with investors and fundraisers, how they do marketing, how much they raise and invest.
Crowdfunding doesn't give voting rights to investors, while depending on the public or private syndication, investors can make or at least affect the decisions in regards to the choice or sale of property, for example.
How to build a syndication or crowdfunding platform
If you'd like to build a crowdfunding platform or a syndicated investment marketplace consider LenderKit.
LenderKit provides investment management and automation software to help you close more private capital deals online. We offer a set of out-of-box features and limitless customisations of the investor portal and admin area. 
You may check out the LenderKit software tour to get a quick idea of the major user interactions or request a full demo and consultation with our fintech strategist.