How to Build a Crowdfunding Platform for Startups
If you are thinking about launching a crowdinvesting platform, you need to consider a lot of things such as specialization, regulatory details, costs for development and maintenance, and a plethora of other aspects.
Some crowdfunding platforms focus on a specific niche such as FarmFundr, TecraSpace or Charm Impact and some represent versatile crowdfunding marketplaces like CrowdCube, Seedrs or StartEngine. There are platforms that operate globally, and there are those that serve the local market.
Each of these websites has its own unique features, investment flows, deal sizes, and regions where they operate. So, how can you start a crowdfunding website for startups and make it competitive to gain the market share? Do you need a white-label crowdfunding website solution or should you build a custom crowdfunding platform?
Let's take a closer look at the possible options to find out which one is the best for you.
What you will learn in this post:
Investment crowdfunding: debt vs equity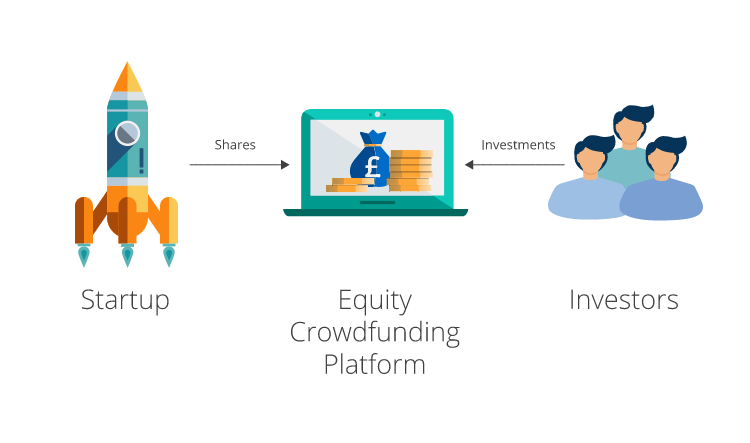 In investment crowdfunding, investors expect some profit in return for the funds they invest.
There are two types of investment crowdfunding — debt and equity.
Debt crowdfunding
Peer-to-peer lending or debt crowdfunding is when investors are lending their funds in return for financial benefits.
There are two main types of debt investing.
Investors receive a fixed interest on the loan during a specific time or until these payments cover the loan principal and the interests.
Investors get interests during a specific time, and then, the loan principal shall be repaid.
Equity crowdfunding
Equity-based crowdfunding is when investors get common shares in the company. If the company succeeds, investors benefit together with the business.
However, if the company doesn't bring the expected income, investors may either lose their funds or not get the profit they have counted on.
That's why equity-based crowdfunding is among the riskiest crowdfunding models. It's also heavily regulated and requires a platform to provide investors with the maximum information about the fundraiser.
Crowdfunding regulations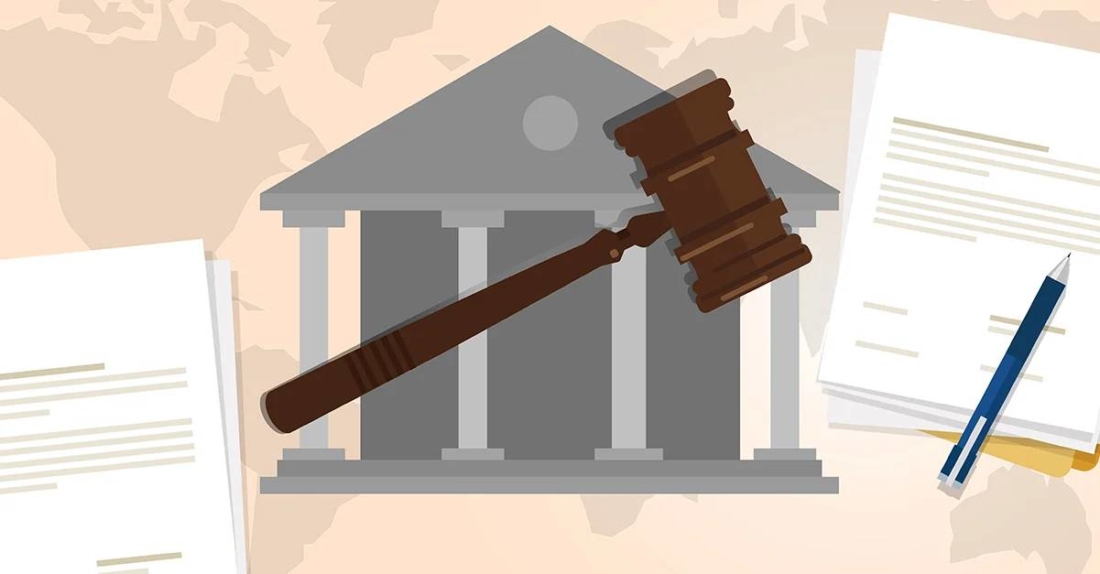 Platforms dealing with investment crowdfunding, both debt-based and equity-based, are heavily regulated and shall be authorized by regulatory bodies in a specific region and comply with a set of legal requirements. Therefore, to run a crowdinvesting platform, you need to make sure it complies with the valid legislation.
Crowdfunding regulation in Europe
With the adoption of Pan-European regulation, crowdfunding platforms in Europe got passporting rights which means that a platform registered in one member state can operate in all other member states. Even though in every member state, there are some specific details to consider, the majority of regulatory provisions have been unified.
There are many requirements to crowdfunding platforms in Europe among which:
Ensuring that offered projects are carefully selected and the information is provided in a fair, unbiased and transparent manner that doesn't constitute a recommendation
Clear procedures to handle complaints from clients
Development of a business continuity plan to protect investors in case of the provider failure
Mechanisms of client notification, provisions for servicing of outstanding loans, handover of assets, and similar
According to the European crowdfunding regulations, a company is permitted to raise up to EUR 5,000,000 per year through crowdfunding offerings.
Since only crowdfunding payment service providers can handle the payment services, a crowdfunding platform shall either get a special license to manage payments or entrust this operation to a licensed payment service provider.
According to the regulation, investors are divided into sophisticated and non-sophisticated depending on their income and experience in the investing sector, and limitations are imposed on the sums that non-sophisticated investors can invest.
A crowdfunding service provider shall run an entry knowledge test for non-sophisticated investors to ensure they understand the associated risks and the investment nature.
Crowdfunding regulation in the USA
To launch a crowdfunding platform in the USA, you will have to pass the following procedures:
You need to reserve and register your company name with FINRA. To do so, it is needed to fill in the Firm Name Reservation Request Form.
Then, you need to complete the SEC Form Funding Portal and submit it to the SEC electronically.
After that, the firm must designate a Super Account Administrator. You are required to complete the New Funding Portal Organization Super Account Administrator (SAA) Entitlement Form.
Then you submit the fingerprints of every person in your company who is a partner, a director, an officer, or an employee in your company (with some exceptions).
Send the payment for the application fee.
Complete the Funding Portal with the new member application.
The main requirements and limitations are similar to those applied in Europe:
Also read: Reg CF vs Reg A vs Reg D: FINRA crowdfunding portal compliance
Crowdfunding platform features
A crowdfunding platform is not a simple website. It shall have a set of particular features and provide designated areas for each type of users to enable crowdfunding campaign managers, investors, and fundraisers work.
Crowdfunding admin backoffice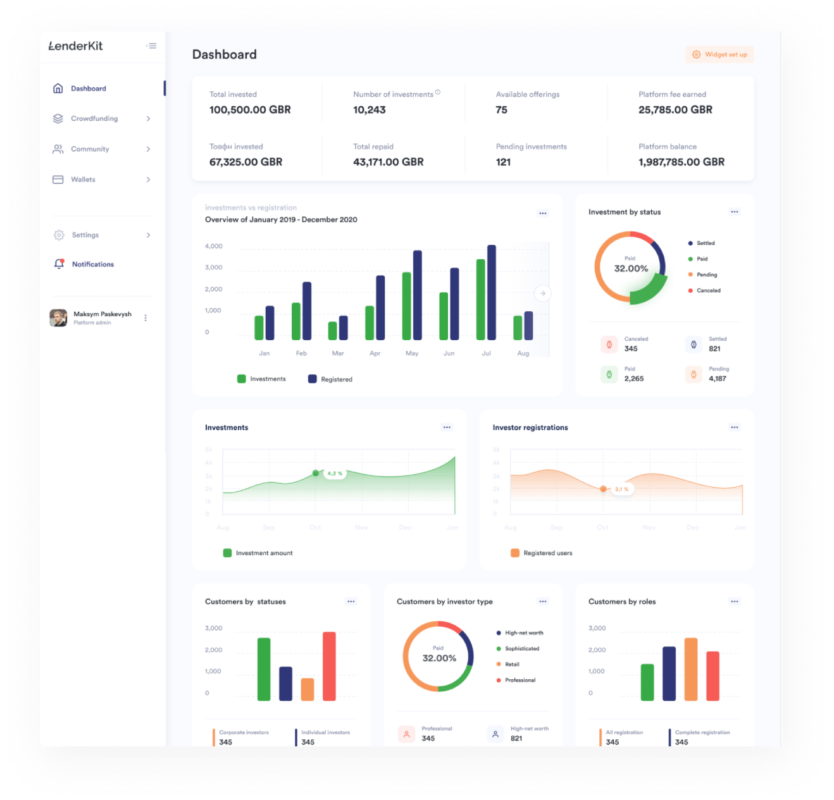 The crowdfunding admin backoffice facilitates the management of a crowdfunding platform. A dashboard visualizes all the platform's vital KPIs that enables you to monitor the performance of your crowdinvesting portal. It provides you with extensive user management (advisors, data processing officer, custom roles) and data management (offerings, transactions, documents, user statuses) options.
There, you can monitor the following information:
How many users signed up and passed KYC with the subdivision of users into such categories as individual investors, corporate fundraisers, corporate investors, etc.
The total number of offerings by status
The total amount of funds raised
The amount of fees collected
The number of actual offerings
While the basic parameters are provided by a white-label solution if you use any, they can be customized further by adding the parameters that you need.
If you choose a white label investment platform, you get a personal area for each type of users:
Fundraisers
Individual investors
Corporate investors.
Crowdfunding fundraiser portal
The fundraiser's dashboard enables capital raising firms to monitor the crowdfunding campaigns and to perform the following actions:
View transactions, make repayments, and monitor the payout schedules
Manage offerings
Manage bank accounts and cards, and similar.
As well as display relevant information:
Funding goal, investment terms, minimum investment, interest rate or IRR
The amount raised
Offering description and attached documentation
The FAQ sections with replies
Crowdfunding investor portal
Investors have their own dashboard to manage investments, monitor the performance of their investment portfolio, replenish e-wallets, and trade the financial instruments purchased via the platform in secondary markets.
They can view available offerings and invest in them by either performing a transaction online via a verified payment service provider or by making an offline transfer.
While this set of features is sufficient for a crowdfunding platform, you can customize them or add other options depending on your business needs.
A niche crowdfunding website or a large crowdfunding marketplace?
When considering the launch of a new crowdfunding platform, you will have to decide whether you want it to be focused on a specific niche or you want it to be a large marketplace for all types of projects.
Both options have their pros and cons.
At times, it seems that launching a large crowdfunding marketplace is the most beneficial option.
Established crowdfunding marketplaces such as StartEngine or CrowdCube impress both investors and fundraisers with strong track records and a great number of offers, so launching such a website is not a simple task.
First of all, consider the competition: it will not be easy to take your niche in an already established market, and you may require several years to find your fundraisers and investors.
Another challenge is the regulation.
Even though in the EU, the crowdfunding regulation was harmonized, it is still far from the worldwide harmonization. Thus, being active on a global level requires working with numerous regulatory regimes that differ one from another greatly.
The majority of large platforms were launched when the market size was relatively small, and it allowed the entrants to scale quickly. Now, with the market growth, some investors are more focused on the platforms operating in the niche of interest such as green energy, art, and similar.
Even though niche crowdfunding websites do not impress with such amounts of funds invested, they can compete with the large marketplaces in some aspects. So, when the market grows, platforms with a focus on a specific niche are becoming more viable because they can attract projects and people based on the selected niche.
How to launch a large crowdfunding marketplace
If you have decided on a large crowdfunding marketplace, you can follow the StartEngine example and use the LenderKit white label crowdfunding solution to create your platform with the minimum expenses. You can divide the services provided by your platform into the three main stages:
Before funding – the platform prepares the business for fundraising, conducts due diligence and verification, helps to find the required documents, and similar.
Active funding – the platform enables the campaign owners to gain the necessary insights in the project and records all investment commitments.
After funding – the platform assists with annual reporting, transforming a campaign into a case study or whatever else is needed after the funding stage is over.
Your clients will be able to use payment services provided by the third parties and access the secondary markets.
How to launch a niche crowdfunding website
If you opt for a niche crowdfunding website such as Charm Impact, or FarmFundr, the LenderKit crowdfunding software will help you to launch your crowdfunding portal focusing on green energy, agriculture, blockchain, art, or any other niche.
An extensive set of out-of-the box crowdfunding platform features will enable you to develop your platform asap and with much lower expenses than if you were creating a portal from scratch. All the features can be customized to reflect your business' values and needs.
Popular crowdfunding platform integrations
A crowdfunding platform uses various integrations at different stages of the service provision to investors and fundraisers.
For the KYC/AML purposes, Jumio and Veriff are often used
For processing of funds, NorthCapital is used for the platforms operating in the USA, and Lemonway – for the platforms operating in the EU
For document management, DocuSign and HelloSign are used.
When choosing a white-label crowdfunding platform solution from LenderKit, you can choose those integrations only that you need and customize them according to your needs.
How much does it cost to build a crowdfunding website?
On average, you need to have around EUR 89,000 to start a crowdfunding platform that will provide your clients with the basic functionality and operate as required. However the cost may change depending on many factors such as:
Solution — using a white label solution is going to be significantly cheaper than developing a custom website.
Country of registration and operation — registering a crowdfunding platform in Latvia is much cheaper than registering a similar crowdfunding portal in the Netherlands.
Flow types and numbers — launching a platform with one business flow is not as expensive as creating a portal with several business flows.
The estimated costs were indicated for launching a business only, not for running it.
The expenses for running a crowdfunding platform also differ depending on the:
Country of operations
Regulatory requirements
Third-party integrations, and many more factors
Subscription if you use a white-label solution
Fees for the services provided by third parties, and so on
White-label crowdfunding platform software for startups
With the LenderKit wihte-label crowdfunding software, you can build a crowdfunding platform for startups with minimum expenses and within the shortest time. A white-label solution offers all the integrations with third-party services that are crucial for a platform to operate.
Our crowdfunding solutions fit the local and international markets, can work as a prototype or a fully-functional software, facilitate compliance and automate investment processes to help you close more investment deals on a scale.
To learn more about LenderKit, you can check out the online crowdfunding software tour or reach out to our fintech strategist for more information.